The Art & Artisans of Shenandoah County, Part 1
By Linda Barrett:
The beauty of Shenandoah County, Virginia is not just found in its natural surroundings, it is also created by the artists and artisans who live and work here.
Many artists draw inspiration from the region's mountain and valley views, animals, plants and history, while others dive into their own imaginations to create their works of art. Whether found on street corners, in galleries, or being created at art studios, there is art all around. Here are some of the art options and artists you'll meet here. And while you're visiting, make it a point to perhaps take home a favorite piece or two.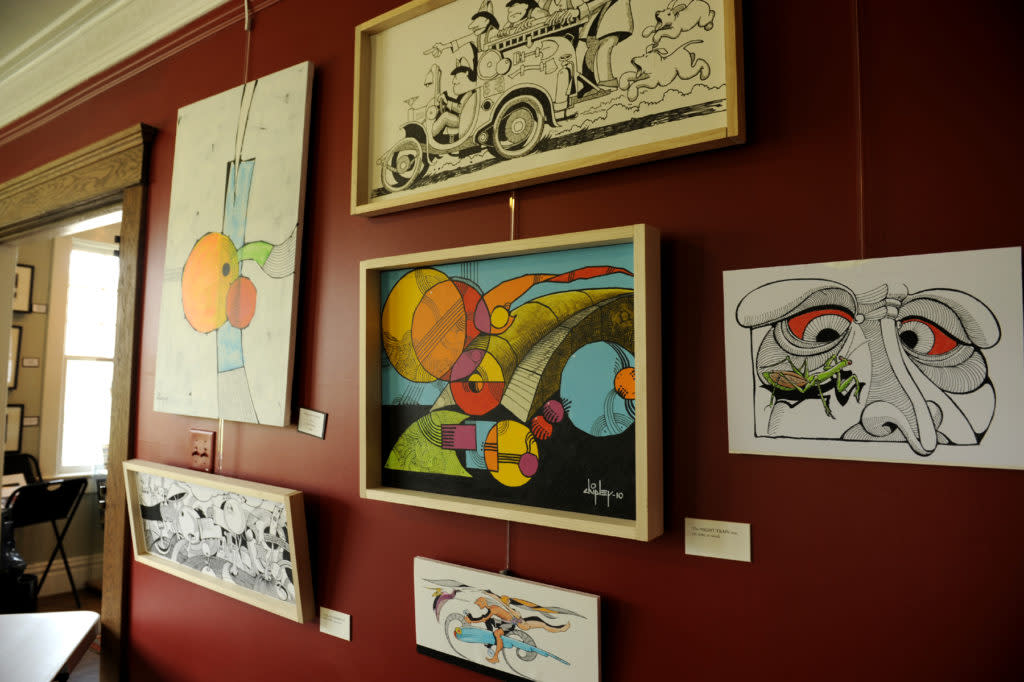 Visit Galleries
The Valley Educational Center for the Creative Arts (VECCA) in Woodstock, creates opportunities for community members to develop their creative skills, and hosts the 7 East Gallery, a venue to exhibit or perform those skills. In addition to several art shows held throughout the year, the gallery features Demo Days where Exhibition Artists share their craft with the community, artists of the month, workshops, and after school programs.
Many of the wineries located in Shenandoah County also host both local and visiting artists on a rotating schedule.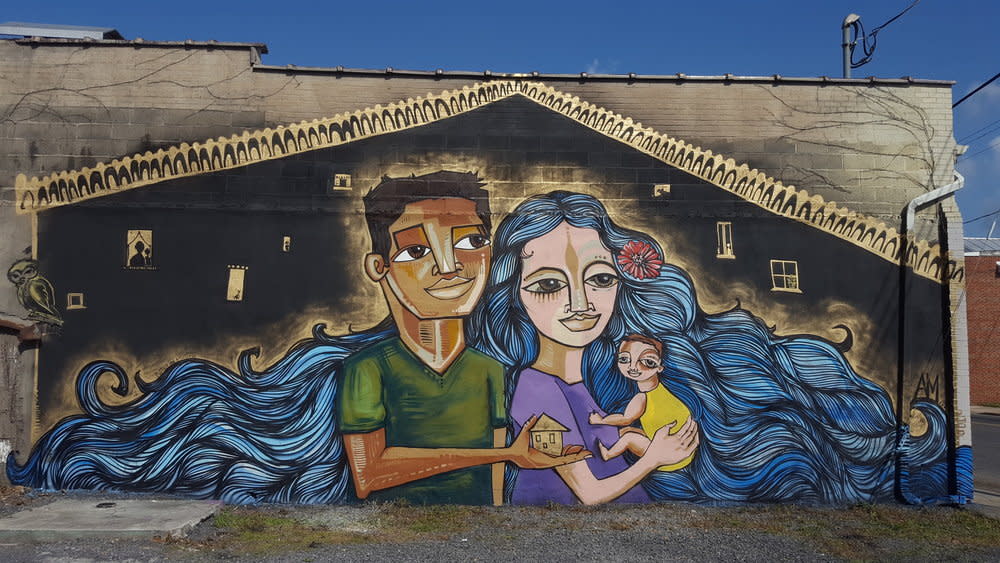 Look for Public Art
Look for the Three Panel Mosaic Mural designed by VECCA artists by the entrance to the Town Parking lot (near the Woodstock Café). The mural is composed of three 4' x 8' panels that feature the Shenandoah River & Valley and highlight the area's beauty and recreational activities.  Each panel was with the help of the local community allowing local residents and visitors to leave their mark.
Staufferstadt Arts assembled a group of internationally-recognized muralists and street artists to install a collection of the finest contemporary public art in Strasburg. The Staufferstadt Mural Project, an ongoing public-art initiative, adorns buildings along East and West King Street in downtown Strasburg. See if you can find all 10 murals!
Also, don't miss Artfest, an outdoor festival and showcase of emerging artists from the Shenandoah Valley, held every June in downtown Woodstock/Court Square, alongside the Vintage Woodstock Festival.
Capture the Valley
Drawn to the timelessness of Virginia's mountains and valleys, photographer Gene Taylor moved to Woodstock to establish his studio, darkroom and gallery. Through large format camera equipment, he offers wide views of the area's scenic beauty. Pick up one of his giclée prints featuring translucent archival inks that allow more light to reflect brighter colors, emotion and feeling in each image.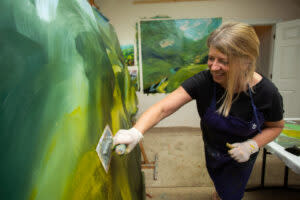 Painter Sally Veach captures the history of Shenandoah County by exploring the restorative effects of the local landscape, the power of nature and the local heritage. Joining with the Shenandoah County Historical Society to visit barn owners and document their barns, her works include a conceptual series of paintings titled Horreum (Barns of Shenandoah) featuring the area's deteriorating historic barns. The Latin word horreum means "place to store grain," and was used by the Romans to refer to large public warehouses. To Sally, the horrea, or barns, represent man's attempt to subvert nature.
With an eye for more than politics, Mount Jackson councilman Rod Shepherd is known for his outdoor photography, with stunning close-ups of the people, places and nature of Shenandoah County.
Be Creative
If creating art makes you happy, discover your inner artist at The Art Spot in Woodstock. With instruction from owners Bob, Emalou, and Michelle you can immerse in "paint your own" pottery, wood sign, canvas and more, with detailed instruction and individual attention. Enroll in a small group event or drawing class, or enjoy individual art instruction. Grab a "to-go" kit and complete your art project at home.  The Art Spot also utilizes a mobile art studio that can bring fun art lessons to people outside of the studio.
Look for more artists and artisans in our second installment in this series.
7 East Gallery (VECCA), 123 S. Main Street, Woodstock, vecca.org

Staufferstadt Mural Project, Woodstock, Strasburg

staufferstadt.org/muralsartists
Artfest, Woodstock, https://www.woodstockvt.com/events/woodstock-art-festival
Gene Taylor Photography, studioshenandoah.com
Sally Veach, sallyveach.com
Rod Shepherd, Mt. Jackson, https://www.facebook.com/rod.shepherd

The Art Spot, 130 W. Court St., Woodstock, theartspotllc.com