By Erin Smith:
Shenandoah County is a premiere destination for both road bikers and mountain bikers. It has back country roads offering views of idyllic Valley scenery and distant mountains. Those mountains have miles of hardcore singletrack begging to be shredded. Read on for some of our favorite rides both on and off the road.
Road Biking
No experience matches gliding along a quiet country road on a bike and feeling the sun on your shoulders and the breeze on your face. Shenandoah County has miles and miles of quiet roads with views of rolling farmland and distant mountains. You can cruise past charming towns, vineyards, historic bridges, horse farms and Civil War sites. 
Visit Shenandoah County's bike page for a number of mapped road routes. Some favorites include the scenic 31.6-mile Beverley Farm Inn Loop Rt #4, which briefly parallels the Shenandoah River. Three wineries are on or near your route: The Winery at Kindred Pointe, Cave Ridge Vineyard, and Third Hill Winery. You'll pass Pleasant View Barn, a good venue to consider if you're planning an event. Enjoy views of the Blue Ridge, several pretty churches, and the Corhaven Graveyard, where enslaved African Americans are buried. If you have room on your bike for treasures or just want a short rest, stop in at the Shenandoah Valley Flea Market or Country Road Antiques and Gifts. Plan to explore Shenandoah Caverns, the Rt.11 Potato Chip Factory, The Yellow Barn, and American Celebration on Parade before crossing the 204-foot Meems Bottom Covered Bridge, which dates to the 1890s. The ride passes through the charming town of Mount Jackson, where you'll see many examples of historic American architectural styles before returning to the starting point. Several other larger mapped routes explore the same general area, including rides along peaceful Swover Creek, Rt. 11 heading north to Edinburg and Woodstock, or stretches along the east side of the Shenandoah River.
A 47-mile ride that's lovely any time of year is the loop starting in Woodstock near Seven Bends State Park that circles through Fort Valley. You'll start by heading northeast toward Mauertown and Toms Brook before turning east in Strasburg. Take time to explore Strasburg, checking out the Strasburg Museum, and the Staufferstadt street murals that can be found on various public buildings downtown. Back on your bike, you'll circle into Fort Valley, the secluded "Valley within a Valley," and head southwest on Fort Valley Road along Passage Creek. Notable stops include Elizabeth Furnace Recreation Area, the Fort Valley Museum, and the Fort Valley Country Store, where you can grab snacks as well as local goods and wares. It's a long, slow climb from here to the ridge peak on Edinburg Gap Road. You'll appreciate the steep descent and return to Rt. 11 in Edinburg. Make time to stop at Muse Vineyards to reward yourself.
Another nice ride starts in Woodstock and explores the Valley between Woodstock and Strasburg. You'll pass Maurertown and Shenandoah County Park. Head through Toms Brook and stop to walk across the Deer Rapids suspension footbridge. You'll pass by the historic 1790 Snapp House/Wildflower Farm. If you can carry or eat it, grab some fresh produce at TLH Farms before heading to the Town of Woodstock to sit down and savor a beer and a snack at Woodstock Brew House.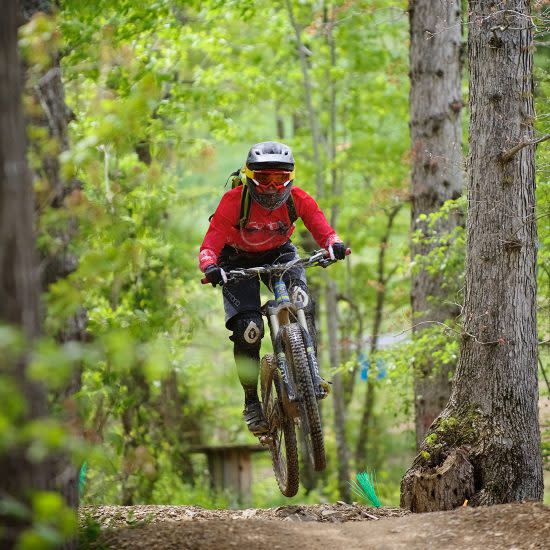 Mountain Biking
Seven Bends State Park provides two miles of hiking/biking trails along a twisty portion of the North Fork of the Shenandoah River. Six more miles of trails explore the western slope of Powell Mountain and connect to the Massanutten Trail in the George Washington and Jefferson National Forest, making for a rewarding 13-mile loop.
Want the joys of rocketing down a slope without working the hills? The Bryce Mountain Bike Park uses ski lifts to take you and your ride to the top of the mountain. Eight trails await beginner to advanced riders, including the expert-level Pickleback and Copperhead. If you're nervous about jumping onto the hill without a practice session, sign up for a lesson with a certified TakeAim Cycling instructor at the learning center. And if you don't want to transport your own bike, you can rent one at the park. Season lift tickets are available. Bryce and Rev3Endurance also host annual mountain bike races including the 2021 Conquer the Mountain Oktoberfest - MTB or Gravel Grind Race. If you're interested in adventure racing, they have those, too, ranging from 24-hour challenges to family-friendly sprints.
Shenandoah County has enough rugged singletrack to keep even the most avid and experienced bikers busy for months. You'll find an abundance of rock gardens, quad-burning climbs, and adrenaline-spiking descents. Here are some popular choices. 
The incredibly difficult, but absolutely worth it 9.9-mile Signal Knob ride will kill your legs going up (even if you walk it as most do). The long, dramatic descent and multiple rock gardens will make you want to repeat the ride. Give yourself at least two hours to make the loop, which can be attempted in either direction. You'll enjoy the Buzzard Rock Overlook and great views of Fort Valley. Signal Knob received its name during the Civil War when both armies used it as a lookout point. If you want the view from Buzzard Rock, but would rather attempt an easier ride, follow the 4-mile Buzzard Rock North ride.
Steep and rocky with grades reaching 25%, the difficult 9.6-mile Big Schloss Loop ascends to and follows the ridge. Riders can take the short spur to the Big Schloss overlook before enjoying a steep downhill session with both technical and speed sections. Schloss is the German word for castle, and you'll see how it got its name as you ride along the ridge toward it. The panoramic view from the rocky overlook stretches from Virginia to West Virginia.
Some people ride the 24.4-mile Elizabeth Furnace Figure 8 of Hate for the views of Signal Knob and Woodstock Tower. Others ride it for the incredible descent, lauded by mtbproject.com as one of the best in the entire state. As the name implies, this route is strenuous and rocky and riders should fuel up for a long climb at the beginning.
Kern Mountain - Jawbone Overlook Ride utilizes the relatively gentle Crisman Hollow Forest Road to gain much of its altitude before a rugged section of rock gardens and steep climbs and descents. You'll probably need to carry your bike for sections of these 10 difficult miles. If you take the Crisman Hollow Road to the north, instead, you can ride the less technical Duncan Hollow Loop. At 12 miles, it's a good intro to the more challenging trails in the area.
Epic Adventures
Shenandoah County boasts the monumental and punishing 70-mile Massanutten Ring, also known as the Ring of Fire, which traverses the eastern and western Massanutten Ridges and encircles Fort Valley. While only expert bikers should attempt the entire thing, it is made up of a number of popular (and shorter) rides. At 40 miles, the Twin Towers loop is shorter and covers much of the same terrain, but eliminating the northern and southern sections of the Massanutten Ring. Expect an expert-level ride with challenging, rocky work along the ridges.
If you're committed to making an epic 480-mile off-road trek through nearly all of Virginia, you now can, courtesy of the Virginia Mountain Biking Trail. This trail requires the skills of serious bikepackers as it climbs to and meanders along the ridges in sometimes seldom-visited parts of the Blue Ridge and Allegheny Mountains. It connects Strasburg to Damascus through eight major trail systems in the George Washington and Jefferson National Forests.
More
Sometimes it's nice to just focus on peddling and let someone else do all the other work. Shenandoah Mountain Touring guides riders of various abilities in George Washington National Forest. They'll take you on shuttled or loop single or multi-day tours designed for your ability level. If none of their offerings are quite what you're looking for, let them design a custom trip to suit you.
Bike Shops
You might have to travel a bit to get to a bike shop. Here are four of the closest: