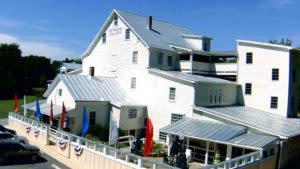 Beautiful, old-fashioned Edinburg has been listed on the National Register of Historic Places since 1998. In fact, there are 292 buildings comprising the historic district, and visitors will see Queen Anne, Colonial Revival, and Italianate styles. Edinburg's walkable Main Street is lined with shade trees and sidewalks, making it easy to admire the town's lovely old homes, many of which have been carefully restored. Learn about the area's history and culture at the Shenandoah Valley Cultural Heritage Museum, housed in one of the few mills that escaped destruction during the Civil War. Downtown also offers the chance to taste local specialties at family-owned restaurants and get the special, personal treatment that's unique to small businesses.
Attractions
While you can't beat a leisurely drive on back roads near Edinburg, a day here isn't complete without a visit to the Shenandoah Valley Cultural Heritage Museum at Edinburg Mill. The museum entertains and educates with hands-on exhibits about area transportation and railroad history, period clothing, the Civil War, and America's first Civilian Conservation Camp. You can also watch the film "The Burning" at the museum's theater and learn about how the mill was one of a few mills to escape when Sheridan burned the Shenandoah Valley.
Spend an evening taking in a live show at Theater Shenandoah, which is housed in the 1890s Opera House in Edinburg. This nonprofit theater nourishes the performing arts by bringing a variety of entertainment to town, including plays, musical theater, and readings. The theater also seeks to educate the public with classes and workshops.
Heavenly Heart Farm & Mini Petting Zoo will bring a traveling petting zoo to you for your special event. Made up of gentle rescue animals like cows, pigs, goats, ponies, ducks, and guinea pigs, the zoo is sure to put a smile on anyone's face.
Edinburg Minigolf & Ice Cream offers affordable mini-golf with the promise of tasty ice cream when you finish. Order a big cone, a pup cup for your pet, and kick back at one of the shaded tables enjoying the wholesomeness of it all!

Outdoor Recreation
If you want to get outside in town, relax and spread out your picnic in five-acre Edinburg Park. You'll enjoy a view of Massanutten and the Blue Ridge Mountains. The park has one playground, a seasonal pool, 3 covered pavilions with picnic tables and grills spring thru fall, county owned ballfield, tennis courts, basketball hoops, and more. You might also take a stroll through peaceful Cedarwood Cemetery, dedicated in 1876, and look at the "soul encouraging" Statue of Hope.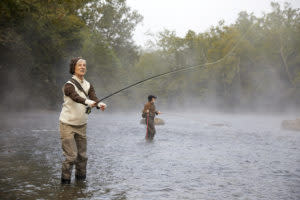 Stony Creek joins the North Fork of the Shenandoah River northeast of town and runs through Edinburg, and the section north of town has bedrock ledges that make for good fishing. Reserve guide services or sign up for a class or workshop through Murray's Fly Shop. The fly shop sells specialty fly-fishing supplies like flies, fly materials, and maps and books by Harry Murray, a regional fly-fishing expert. Check out the website for lots of good information about fly fishing.
There are many opportunities to ride your bike near Edinburg. Mountain bikers can gear up for a section of the grueling 70-mile Massanutten Ring, also known as the Ring of Fire, which traverses the eastern and western Massanutten Ridges and encircles Fort Valley. Horse enthusiasts can sign up for a guided tour and mountain trail ride at nearby Fort Valley at the Fort Valley Ranch. Make a weekend out of it at the horse and mule campground or with a guest ranch package. And if you'd like to get off the beaten path in your OHV (off-highway vehicle), you're in luck! Nearby George Washington National Forest offers wooded trails and incredible views from the largest OHV complex on public land in Virginia. Access the trails at South Peters Mill Run Trailhead, Edinburg Gap Trailhead, and Taskers Gap Trailhead.
Shopping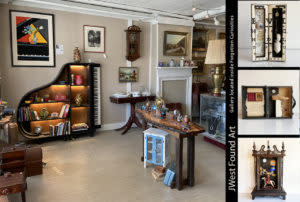 Search for treasures like furniture, glassware, primitives, collectibles, toys in the spacious Flea Market in Edinburg. In fact, 90 indoor booths are filled with treasures from the past. 
If knitting, crocheting or other yarn and fabric crafts are your passion, Yellow Farm House Yarns is a good place to find supplies. The shop sells a nice selection of yarn, fabric craft materials, books, art, and hand-knitted garments. They also host knitting groups, "Bring Your Yarn Stash" trading events, and classes like advanced crochet. 
ETS Hobby Shop stocks nitro and electric remote control cars, trucks, planes, boats and trains. You can also find a room full of model kits and supplies as well as educational toys and crafts.
Shop for quality imported and local wines at Heritage Mill Wines 1848 in the lower level of the Edinburg Mill. You can also buy food items like cheese, peanuts, crackers, chocolate, salami, and more as well as gifts. 

Events
Edinburg has celebrated the past for 40 years with its Ole Time Festival each September. Activities include a pioneer breakfast, sing alongs, bed races, beard contests, blacksmithing demonstrations, Civil War-related lectures, music, a sock hop, an old timer's basketball game, crafts and food vendors, and more. In non-Covid years, there's a Firemans' Parade and Lawn Party, so look for that to happen again soon.

Where to Eat
Head downstairs in the Edinburg Mill to dine on pub-style food in the Edinburg Mill Restaurant. Chefs Jason Burns and Dennis Stickley emphasize local products in their seasonal menu items. Start with an order of tea-smoked ribs or pan-seared scallops over roasted red-pepper puree. Next, dig into an entree of fried Chesapeake oysters or blackened Virginia catfish. The restaurant also serves steaks, burgers, as well as lunch selections.
Pack a cooler when you visit Beans Barbeque because you'll want to take some with you to eat at home the next day. The eatery is simple, but the food is very, very good. Choose from finger-licking pork barbeque, ribs, chicken barbeque, andouille sausage, and brisket. Beans, slaw, and chips can be had on the side. Local tip: Be sure to bring cash or a personal check because they don't accept credit cards.
Sal's Italian Bistro has been serving tasty Italian fare since 2000. Keep it simple and order pizza and apps or indulge in a baked entree like veal firenze or chicken peppino. You'll be hard-pressed to choose your favorite from the 20 sauces on the "Create Your Own Pasta" section of the menu. Grab a take-out party tray to feed a crowd at your next big event.
Edinburg is centrally located for touring five nearby vineyards: Muse Vineyards, Shenandoah Vineyards, Cave Ridge Vineyard, Wolf Gap Vineyard and Winery, and the Winery at Kindred Pointe, which also sells hard ciders. Sign up for a tour with Shenandoah Valley Wine Tours, for safe transportation to four vineyards as well as an optional snack box. If wine is just not your thing, the tour company will also plan brewery tours or historic tours of area sites.
Swover Creek Farms Brewery offers a rotating selection of fresh craft beers on tap. You can also get non-alcoholic Blue Ridge Bucha or lemonade. Wash it down with wood-fired pizza, Country Rhodes sausage (to eat at the brewery or take home), salads, and apps. Make a day out of your trip to Swover Creek by playing a round of disc golf on the well maintained 18-hole course stretching over the beautiful farmland. Relax afterward with a cold beer and regular live music.

Where to Stay
The 1740 Inn At Narrow Passage is a historic bed and breakfast with 12 guestrooms located in the countryside between Edinburg and Woodstock. Stroll the private grounds along the Shenandoah River and imagine past times when this was the frontier and an important Civil War site. There's a conference room and space to host family gatherings or business retreats. The Inn serves a full breakfast as well as grab-and-go options for travelers in a hurry.
You'll love the four guest rooms with private baths at Edinburg Renaissance Bed and Breakfast. Not only is the 1850 Victorian home tastefully renovated with amenities like a library, media room, indoor and outdoor dining spaces, and a large front porch, it's also right in the heart of historic Edinburg, an easy walk to all the town has to offer.
Family-owned Creekside Campground sits at the edge of Stony Creek within walking distance of Edinburg. You'll love wading or swimming in the water and admiring the peaceful views from your tent or RV site. There was once a submarine bridge and later a dam that provided electricity for a sawmill and rifle factory at this site.
Those who prefer a brand hotel can find an Econo-Lodge, Hampton Inn & Suites, Holiday Inn Express, and Comfort Inn serving nearby Woodstock.