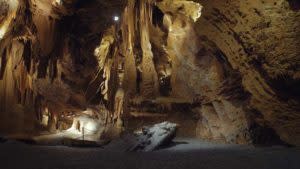 Tour the local vineyards: Cozy up on the couch near the fireplace on a rainy day as you take in some live music at one of the many local vineyards in Shenandoah County. In fact, Shenandoah County is home to 7 vineyards including Cave Ridge Vineyards, Cedar Creek Vineyard, Muse Vineyards, North Mountain Vineyards, Shenandoah Vineyards, The Winery at Kindred Pointe, and Wolf Gap Vineyards. If wine isn't your thing, the Winery at Kindred Pointe also offers their own ciders or be sure to try one of the area's local craft breweries such as Swover Creek Farm Brewery or the Woodstock Brewhouse.
Shenandoah Caverns: No matter the weather outside, Shenandoah Caverns is always a mild, 55 degrees underground. In addition to the world famous "bacon formation" stalactites, admission to the Caverns also includes admission to 3 other attractions: Main Street of Yesteryear, The Yellow Barn and American Celebration on Parade. This kitschy museum features parade floats from former Rose Bowl parades, Presidential Inaugurations, Thanksgiving Day Parades and more.
Duck Pin Bowling: Enjoy a little piece of nostalgia with a game of wooden duck pin bowling complete with original stadium style seating and old wooden tracks to return the balls.
Lunch at Woodstock Garden Café at the Woodstock Gardens You'll forget it's raining outside with the colorful flowers and garden décor within the Garden Café. Enjoy a sandwich or salad made with locally sourced ingredients including their own farm, fresh pork specialties.
Woodstock Community Theatre: Where else can you still catch the latest blockbusters for under $10 a person?
Shop the dozens of antique and small boutique shops in the county:  Find secondhand treasures, explore artisan galleries and studios, savor locally grown foods and meet some wonderful people along the way.
A meal at Southern Kitchen: Nothing warms the soul on a rainy day like some good ol' southern cooking and the fried chicken at Southern Kitchen is to die for! They're also well known for their Virginia peanut soup.
Virginia Museum of the Civil War: This museum tells the story of the Civil War focusing on Virginia and the Battle of New Market where 257 cadets from Virginia Military Institute participated in the battle. This story is accounted in the blockbuster film, The Field of Lost Shoes.
The Edinburg Mill: The area's best kept secret, this museum features an abundance of history under one roof. Displays range from the agricultural history in the valley, fashion, civil war, and even an impressive collection of Red Cross memorabilia.
Route 11 Potato Chips: Visitors can watch as the chips are made before their eyes through the clear glass walls of the factory and sample each of their delicious flavors made from Virginia grown potatoes.