Shenandoah County is home to three breweries, and each has a wildly different vibe. One brewery is considered a farm brewery located on a century farm and two are centered in historic downtowns along the main artery of the counties US Route 11, also known as the Old Valley Pike.   
In addition to locally brewed craft beer Shenandoah County offers four seasons of outdoor recreation.  With over 74,000 acres of Shenandoah County covered in National and State Forest, an abundance of trails are just waiting to be explored. Clear water, pleasant scenery, diverse wildlife, and mild whitewater make the North Fork of the Shenandoah a paddler's dream. When winter rolls in hit the slopes at Bryce Resort for skiing, snowboarding and snow tubing just an hour and a half from Washington, D.C. 
Woodstock Brewhouse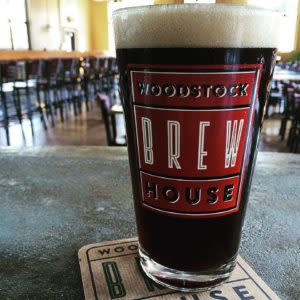 Beer lovers will also enjoy a visit to Woodstock Brewhouse. Located in the historic town of Woodstock, Virginia, The Woodstock Brewhouse offers a variety of signature craft beers in a renovated former Casey Jones Denim Plant. Remnants of the denim plant are still visible including patches in the restored original wood floors where sewing machines used to sit to manufacture bell bottoms for the Navy during WWII. Patrons to the Brewhouse can watch the brew masters in action as they sit at a bar overlooking the brewing equipment in the level below. In addition to their own craft beers, the Woodstock Brewhouse also makes their own cream soda, root beer and ginger ale for customers of all ages and the kitchen serves up a great menu of food items from the popular food truck, Vittles. They do a great job of balancing the standard bar-fare with different dinner specials each week that keep the menu very interesting. New to the Brewhouse is a take-out refrigerator where guests can pick up a taco salad or ahi tuna and rice bowl.   Keep an eye on the Woodstock Brewhouse EVENTS page, there are live musicians booked almost every Thursday of the year.  
123 E Court St, Woodstock 
Swover Creek Farm Brewery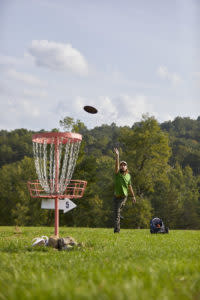 Swover Creek Farm Brewery first entered the craft beer scene in November 2014 and had been in operation as a berry farm for over 100 years, but owners David & Lynn St. Clair shared a vision to expand their offering and began planting hops a few years ago. "We felt the time was right," says David. "The farm is nestled among several wineries here in Shenandoah County. We share a lot of the same customers as the local vineyards but are able to offer a different experience." At Swover Creek Farm Brewery, it's all about gaining an appreciation for the agricultural side of the business. They take pride in customers being able to experience the distinct flavors of different hops varieties and even feature infusions from berries grown on the farm and featured seasonally. 
Throughout the years, Swover Creek has expanded their offerings and in continuing with their farm fresh values, they offer hand made sausages in many varieties sourced from the neighboring farm as well as wood fired pizza with lots of unique combinations of toppings. You could spend a whole afternoon at Swover Creek Farm with their 18-hole Disc Golf Course, Berry picking in the summer, children's activities, corn hole, and did we mention they are very pet friendly? 
4176 Swover Creek Rd, Edinburg 
Box Office Brewery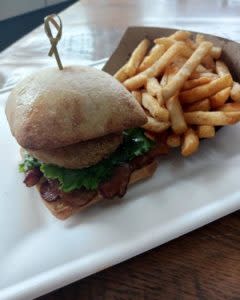 Box Office Brewery 
Located in the Town of Strasburg, Box Office Brewery adds a touch of historic charm to the streetscape. When business partners Karl and Tom purchased the old Strand Theatre in Strasburg, they knew they wanted to preserve the historic qualities of the old theatre building. When renovations began on the circa 1913 theatre, (believed to be the first fully developed movie theatre in Shenandoah County that showed silent films in its earliest days) didn't realize what they would find. Movie posters in attic spaces used as insulation and hand-painted murals of mountain scenes that define the region were hidden by layers of modern walls. The murals were preserved and are now covered with glass for visitors to enjoy. 
The post-renovation style of the brewery is a celebration of the theatre's past with the marquee outside identical to the one that once said "Theatre" now says "Brewery". Flights of beer are served on trays that look like movie reels, and those old posters found in the attic insulation are now framed along the walls and are embedded under glass in the upstairs bar for everyone to see. Click here to read more about the preservation of history at Box Office Brewery. 
 177 East King Street, Strasburg 
The breweries in Shenandoah County are a great casual stop for everyone who loves the outdoors, cold beers (many offer cider and wine too!) and a delicious meal after a hike, a biking excursion or a day on the river. You'll find plenty of indoor and outdoor seating, with room for friends and family to gather. Visit our Outdoor Recreation page to see what kind of adventures you may plan!