For a walk in nature, there are plenty of scenic options in Shenandoah County thanks to an abundance of forest lands and green spaces. From Strasburg to New Market, it's a cinch to find an easy hiking trail or paved path. Walk across a battlefield, stroll alongside a river or traipse through a vineyard. There are so many scenic walks to love.
Lace up your sneakers. Here are 10 fantastic choices to help you get in your steps. As a bonus, we've included a spot or two to stop for a pre-hike coffee or a post-hike bite.
#1: Storybook Trail (New Market)
The paved Storybook Trail may be less than one-mile, but it wows with spectacular views. From the trailhead, walk along a whimsical curved wooden footbridge, which leads to a fully-accessible path to a mountain overlook. Along the way, placards educate on the Massanutten Mountain Range. Post-hike, make the short drive into town for a bite at Kathy's Home Cooking Café.
#2: New Market Battlefield State Historical Park (New Market)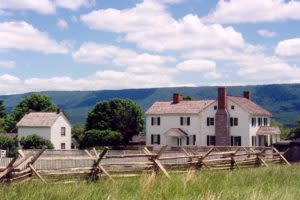 At this 280-acre battlefield park, there are two grassy hiking trails, both of which are half-mile (one-way) with some elevation. One trail sets off from Bushong Farm and crosses an open field to scenic views across the North Fork of the Shenandoah River from two overlooks. The second trail guides visitors to the 54th Pennsylvania Monument. There is a fee to access the grounds.
#3: New Market Community Park (New Market)
At New Market Community Park, you'll find an easy-going and stroller-friendly walking trail that loops around this green space with ball fields, playgrounds, restrooms and picnic pavilions. There are also outdoor fitness stations adjacent to the trail. Stop for coffee or a sandwich at Jackson's Corner Café & Coffee House, which is located inside the visitor center on Congress Street.
#4: Lion's Tale Trail (New Market)
Set in the George Washington National Forest, the Lion's Tale Trail is an interactive half-mile loop trail that encourages visitors to use their senses to explore the forest. Kids will love Lop Ears the Mountain Lion, the cartoon guide on trail placards who urges visitors to rub bark, feel tree roots and wade in the stream. Note that access to this trail is closed from February 1 to the Friday before Youth Spring Turkey Season in April.
#5: Lake Laura (Basye)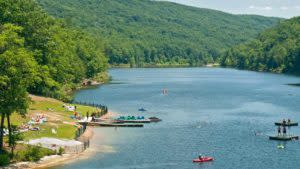 Near Bryce Resort, you'll find a scenic 2.5-mile walking loop around 44-acre Lake Laura. As you walk the perimeter of the lake, note weekend cabins just steps from the hiking trail. In summer, look for a grassy beach, a snack shack, lounge chairs and picnic tables. You can also rent canoes, tubes, stand-up paddleboards and kayaks. There is a fee for non-members of Bryce Resort.
#6: Seven Bends State Park (Woodstock)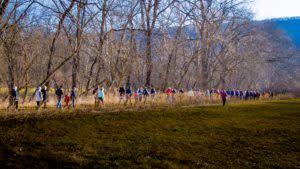 At Seven Bends State Park, there are eight short hiking trails, including Eagles Edge Trail, a one-mile loop trail that features corn stalks and river views, as well as a working apiary. Enter by way
of the Lupton Road entrance for easy access to the North Fork of the Shenandoah River, as well as a gram-worthy LOVEworks sign. For lunch, Muse Vineyards is next door to the state park.
#7: Muse Vineyards (Woodstock)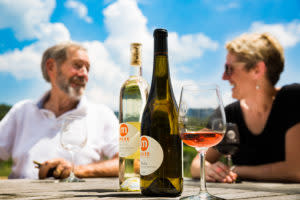 Before you settle in with a glass of a wine and a hummus plate, plan to walk across the property along a 1.8-mile walking trail. Pick up a wine trail guide inside the winery, then follow bright orange signs to see the winery, a historic spring house, a swinging bridge and several vineyards before returning to the tasting room for a glass, a bottle or a flight of wines.
#8: W.O. Riley Park (Woodstock)
At this city park, you'll find a short walking trail that leads across the green space, including picnic areas, tennis courts, basketball courts and a pretty incredible children's playground. There's also a refill station for water bottles and a dog drinking fountain. From here, you're a short drive from Main Street in Woodstock. Smokin' Jarhead is a fan favorite for beef brisket and barbecue.
#9: Strasburg Town Park (Strasburg)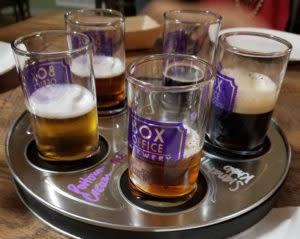 Strasburg Town Park is home to a playground, a children's garden, a dog park and the town pool. It's also home to the Strasburg River Walk, a gravel path that guides visitors along the Shenandoah River. The dog-friendly path is about .9 miles (one-way). Start this walk on the East End for early river views. After your walk, stop in Box Office Brewery for brews, burgers, pizza and wings.
#10: Karst Interpretive Walking Trail (Strasburg)
Pop in the Strasburg Visitor Center, then walk a few steps along the forested trails on the property, which is home to multiple caves and caverns. Placards along the trail educate visitors on the historical location as it relates to the Civil War. You can also catch of glimpse of several caves, including Hupp Cave and Keyhole Cave. From here, it's a short drive to Fox's Pizza Den for lunch.