Sustainability in Shenandoah County Wineries: A Growing Priority
Sustainability has become a prevailing trend in the wineries of Shenandoah County, Virginia, with wineries embracing eco-friendly practices. Our county's wineries are increasingly recognizing the importance of sustainability, not just as a responsible choice, but as a necessary step towards ensuring a thriving future for the industry and the environment.
From vineyard management to winemaking processes, wineries are seeking ways to minimize their carbon footprint, reduce waste and conserve resources. Practices are evolving to reduce reliance on synthetic chemicals and embrace organic and biodynamic farming methods. And water conservation and energy consumption optimization, along with waste reduction programs, are becoming standard practices.
Here are some of the sustainability practices you'll find at Shenandoah County's wineries:
Sally Cowal and Robert Muse of Muse Vineyards have made a concerted effort to embrace sustainability practices. "We believe the principal place to do that is through practices that protect, and where necessary recover, a healthy agricultural ecosystem," Muse said. They maintain a no-till ground cover to avoid soil disturbance and to ensure good rainwater absorption, which reduces vine vigor. Pruning debudding, thinning and harvesting are done by hand where possible to limit heavy tractors, and organic fungicides are used.
With many of the wineries, dry farming reduces the need for irrigation and helps the roots to dig deeper into the soil. At Third Hill Winery at DeMello Vineyards, a pond was dug to provide water if needed, and a windmill aerates the pond to prevent algae growth. And most, if not all, of the wineries are using composting to recycle prunings and the leftovers from grape processing to nourish the soil and gardens.
"As my wife and I are both former lawyers with the DOJ's Environment and Natural Resources Division, sustainability is important to us too," explained Shane Waller of Star in the Valley Estate Winery. "We grow grape varieties suited for Virginia's climate, including hybrid varieties that are more disease resistant and require less chemical input to produce healthy fruit. As an estate winery, all our wines are made from grapes grown on site. This removes the need to transport grapes, grape juice or finished wine over long distances, hence reducing the use of fuel for trucking and lowering our environmental footprint. Buying from our tasting room is also sustainable, as we do not need to transport heavy bottles great distances to reach the consumer."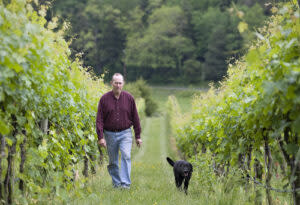 Randy Phillips, owner of Cave Ridge Vineyard agrees. "People don't realize that the products used to bottle and transport wine can have a huge influence—as much as 25% of the carbon footprint of a winery is in the bottles." He uses lighter bottles to help reduce transportation impacts.
Repurposing Materials and Minimal Waste
 A number of the wineries have used repurposed or recycled materials in the construction and decor of their facilities, and look for ways to implement minimal waste protocols: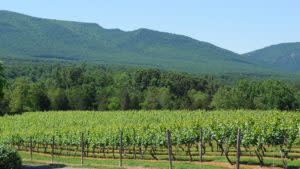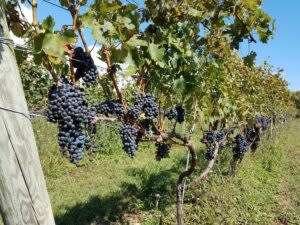 Other unique ways Shenandoah County wineries are embracing sustainability include:
Solar Power
The Muse tasting room is largely solar powered to heat the floors and water, and the owners are awaiting a grant that will help convert all of the tasting room's power needs to solar. At Kindred Pointe, the front gate is solar powered.
Underground Storage
Randy Phillips was inspired by the caves on his property at Cave Ridge to create his own underground handmade wine cave. "Using the efficiency of the soil surrounding it, the room remains between 55 and 65 degrees, which is optimal for wine aging. Barrels are kept in there without expending too much electricity for climate control," he said.
Specialized Equipment
Cave Ridge is investing in the latest machinery that will enable the winery to be 70% mechanized in 2024 to increase efficiency and decrease labor costs.
Insects, Animals and Worms
Wolf Gap is interested in acquiring honeybee hives for honey and natural pollination.
Star in the Valley uses a heritage breed sheep for rotational grazing in the vineyard in order to reduce machinery needs to mow under the vines and reduce the use of herbicides. See their cute video of the sheep at work.
Muse now has earthworms back on the land after they had been totally wiped out by the former commercial farming practices of corn and soybean fields that predated the current owners' conversion to a vineyard.
Planning a Visit to Shenandoah County's Wineries?
Enjoy all the County has to Offer!
As you know, wine pairs well with food. While you're on your winery tour, treat yourself to some of the fine foods available the various wineries. Or make a special stop at one of the county's fine eateries like the Woodstock Cafe after visiting Muse or Jacksons Corner Cafe for breakfast before a day at DeMello. Other stops can include the Woodbine Farm Market and Deli and Swover Creek Farms & Brewery. In addition to its wineries, Shenandoah County offers a plethora of things to do and explore. For outdoor adventure, visit the newest state park at Seven Bends State Park, camp at Creekside Campground, hike to the Big Schloss peak in the George Washington National Forest, or pick your own fruits at the Blue Ridge Berry Farm. And there's no end to history, shopping and the arts. Explore the cute shops in the charming downtown areas of Woodstock and Strasburg. And for history, visit the Edinburg Mill Museum or the New Market Battlefield State Historical Park.