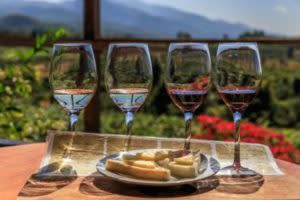 Shenandoah County is lauded for its beauty and wealth of outdoor entertainment options. But Virginia is also known as the "birthplace of American wine," and residents have been growing and pressing grapes here for 400 years. Shenandoah County is home to nine vineyards that produce tasty and complex wines and take advantage of some of the area's most impressive views. And while you might think the wine and natural landscapes are all you need to be happy, Shenandoah County also has a thriving art culture. From a historical pottery exhibit to world-class street art to workshops in pastel painting, we have plenty to feed your art-loving soul.
Read on to learn how to connect to Shenandoah County's wine scene and art scene.
Festivals & Events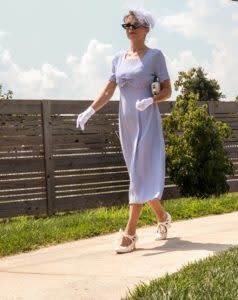 Strasburg's annual Vintage in the Valley event happens the first weekend of April. While the focus is on antiques and vintage goods, visitors will also find handmade arts and crafts of all types. Make sure to stop by the wine garden for a glass of Star in the Valley wine. There's even a bouncy house and a Decades Dance with a costume contest.
In June, the Shenandoah Valley ArtFest and Vintage Woodstock will bring downtown Woodstock's Court Square to life with local and regional art, community spirit and dancing in the street. This annual event helps the public connect with emerging and established artists in a variety of mediums. Plus, there will be live music, games for all ages, lots of tasty food-truck food, and wine and beer. 
Keep an eye on the Museum of the Shenandoah Valley's calendar for quality art programming like Strasburg photo walks and presentations on Strasburg and Shenandoah County's 250-year history of fine, decorative, and folk art.
Wineries and Vineyards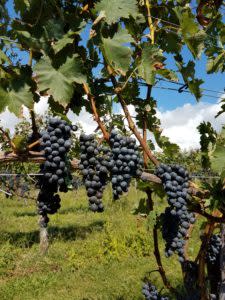 North Mountain Vineyard and Brewery (Maurertown) uses estate-grown grapes to "present a unique array of elegant wines exclusive to vineyard's terroir." Toast your party by the fire in the elegant tasting room, or bring your kids and spread your blanket on the picture-perfect grounds. Check the schedule for live music and events, and stop in at the gift shop for unique gifts by local artists. Nearby Star in the Valley Estate Winery (Strasburg) produces small-batch wines with flavors unique to the Shenandoah Valley. Enjoy the wine by glass, bottle, or flight in the tasting room or from your picnic space on the patio. A trip to the winery will afford you with tremendous views from Little North Mountain.
Muse Vineyards (Woodstock) is a wonderful place to taste some of the best wine around. Hungry? They serve lunch and snacks. They also host rotating monthly art shows and artist receptions in the tasting room.  Nearby Shenandoah Vineyards (Edinburg) is the oldest winery in the Shenandoah Valley and the tasting room is in a Civil-War-era barn. The vineyard takes advantage of the "viticultural potential of the limestone soils and drier growing conditions" to produce a variety of award-winning whites, reds, and rosés. Check the calendar for events like live music and wine dinners. 
Family-owned Cave Ridge Vineyard and Winery (Mt. Jackson) won the 2021 Virginia Governor's Cup Gold Medal and more for its excellent estate-grown wines. The vineyard is also known for its wide views of the Shenandoah Valley. Visit for a tasting and lite fare, and consider reserving an igloo on a cold night. Check the calendar for art exhibits, live music, and events like wine dinners. Also located in Mt. Jackson, the tasting room at the Winery at Kindred Pointe features lots of comfy seating and large doors that can be opened to let in the balmy spring air. The winery sells flights, glasses, and bottles of site-made wine, hard cider, sangria, and hot mulled wine. You can also book a private tasting in the new tasting room space. Nearby Wolf Gap Vineyard and Winery boasts picture-perfect views of Wolf Gap and the Great North Mountain from the wine-tasting deck. Stop in for a tasting or a bottle of your favorite red, red blend, white, or rosé. If you'd like to learn more about the wines or wine-making process, schedule a tour. Finally, Third Hill at De Mello Vineyards (Quicksburg) can help you unwind with a glass of Virginia wine, a view, and live music most Saturdays. Relax by the fire in the cozy tasting room or kick back in a chair on the deck. Check the website for a list of the wines they're currently serving.
Shenandoah Wine Tours
If you want to enjoy your wine tastings and not worry about a designated driver, Shenandoah Wine Tours is your answer. They'll pick you up in Woodstock and then head either north or south and provide safe transportation to four vineyards. You can even complement your wine with an optional snack box.
Seven Bends Spirits Tours is another great option to tour the vineyards and breweries too without having to drive yourself.  They offer private customized tours for groups of up to 12.
Museums and Exhibits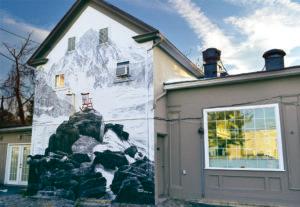 For over a hundred years, Strasburg was famous for commercial manufacturing of stone and earthenware pottery. In fact, the Strasburg Museum was originally a steam pottery. Now it's a museum where you can find a large collection of antique pottery and photographs, learn about more than 250 years of Shenandoah Valley history, and much more. 
Since 2015, Strasburg has been making a name for itself in the street art scene with the Staufferstadt street murals. Located on and just off King Street, the 10 large-scale paintings grace the sides of buildings and were created by artists like Gilf! Alice Mizrachi, NDA, and Over Under. While you're scoping out the murals, stop at the Stasburg Pavilion's exterior display cases to see ShenMOCA's  American Masters of the 20th Century Temporary Contemporary exhibit that will feature a new artist each month in 2022.
Another place to see art outside is Mount Jackson's Apple Basket Water Tower, which rises 150 feet in the air. The design features a basket of red Gala apples to celebrate the area's identity. It was painted freehand by mural artist Eric Henn.
 
Shoppers looking for art can find the work of talented local artists in a variety of media showcased at Woodstock's Valley Educational Center for Creative Arts (VECCA). VECCA sponsors six juried shows each year as well as exhibition artists in the 7 East Gallery space. Exhibition artists offer regular demo days to the public to demonstrate their art.
Classes and Workshops
The Art Spot is a DIY art studio that lets you try your hand at canvas and pottery painting, sign making, and hand-built clay projects. Check the calendar for special ladies' night events like 80s Trivia Paint and Play or Wine & Shine. You'll bond with the gals over crafts, refreshments, and prizes.
If you're interested in creating your own art, check out the class schedule at Strasburg's Kay Witt Fine Art studio. Work to create an entirely new project or receive guidance on one you've already started. Classes are appropriate for all skill levels. If you love the look of realistic pastel paintings, sign up for Lisa Ober's 3-day workshop in Edinburg. You'll get personal instruction and feedback at all stages of the artistic process.