Fort Valley stretches for 23 miles on the eastern side of Shenandoah County between the "arms" of the Massanutten Range. This sheltered and beautiful space is often called a "valley within a valley" and isn't easy to enter without climbing over the ridgeline or coming in through a narrow opening at the northern or southern ends. Native Americans first passed through Fort Valley on hunting trips, and the area's remoteness and limited access to supplies made life challenging for the European farmers who eventually settled there. According to legend, George Washington planned to use Fort Valley as a possible last stand against the British army during the Revolutionary War. Later, the Valley's iron deposits proved important in the iron furnace industry, and even supplied much of the ore for Richmond's Tredegar Iron Works during the Civil War.  The history of the iron furnaces in this area can be explored along the Pig Iron Trail in the Elizabeth Furnace Recreation Area of the George Washington National Forest. 
Today Fort Valley is a quiet getaway where visitors can enjoy scenic drives and peaceful hikes in the George Washington National Forest.

Attractions
If you're visiting on a weekend, stop in at the seasonal Fort Valley Museum to learn all about the Valley's history. You'll find exhibits on the 19th Century cold-blast iron furnace, historic buildings like farms, churches, and schools, as well as exhibits on pottery, music, home life, religion and more.
Each June the Old Dominion 100-Mile Run leads endurance athletes through the Shenandoah Valley, the Massanutten Mountains and Fort Valley. This race boasts 14 serious climbs and totals over 14,000 feet of gain. If you're not tired just thinking about it, start training for next year!

Hiking
Fort Valley is a hiker's paradise, offering hikes for all ability levels that pay off with million-dollar views. Signal Knob is a hard, 10-mile hike with incredible vantage points over Strasburg, Fort Valley, and the Shenandoah Valley. Both armies used it as a lookout point during the Civil War. The Meneka Peak hike, at 8.6 miles is a slightly easier version. Buzzard Rock North is an easy 4-mile hike with wonderful views of Fort Valley. Additional hikes around Elizabeth Furnace Recreation Area include the Sherman Gap Trail, Tuscarora/Little North Mountain, and more.
Check out the secluded Veach Gap hike, and the Kennedy Peak Hike/Stephens Trail, which is a popular hiking destination at the southern end of Fort Valley. Visitors can choose between 5 or 9 mile-loops and savor the views from the observation tower. And at only a half a mile, the nearby interpretive Lion's Tale Trail is short enough for little legs and will teach kids to use their senses to observe the forest. This handicap accessible trail is also stroller friendly.  

Biking
If you'd rather conquer the peaks on your mountain bike, Fort Valley will challenge you with lots of bikeable terrain. The 9.9-mile Signal Knob ride will destroy the legs of even the most experienced mountain bikers on the way up, but it's worth it for the long, dramatic descent. You'll enjoy the Buzzard Rock Overlook and great views of Fort Valley. Some people endure the 24.4-mile Elizabeth Furnace Figure 8 of Hate for the views of Signal Knob and Woodstock Tower. Others ride it for the incredible descent, considered one of the best in the entire state. As the name implies, this route is strenuous and rocky. If you're up for something even longer, try a section of the Massanutten Ring of Fire, which is 70 miles long and travels along both the eastern and western ridges encircling Fort Valley. The Twin Towers route cuts off the northern half of this ride, but still delivers rocky ridgelines and challenging terrain. Road biking in Fort Valley along the main roads is generally discouraged as there are many blind turns and very little shoulder room.

Horseback Riding
To enjoy the natural scenery on horseback, take a guided trail ride at Fort Valley Ranch. After exploring the mountains and national forest, you can return to the ranch to warm up. Rides come in various lengths, from one hour to a full-day adventure for experienced horse people. Kids as young as six can take trail rides, and the ranch has hand-led rides for younger children. Make a weekend out of it by booking a two-night stay in one of the ranch's cabins or at the campground. Another place to spend your day on horseback is Secret Passage Ranch, where you'll be matched with a horse that suits your experience level. Hop on the trails or take a riding lesson through the beautiful landscape.
 
Other Outdoor Recreation
Leaf peepers will love viewing the fall colors as they take the scenic drive down Rt. 678. Fort Valley is unmarred by commercial business, so you'll see little but mountain views and rolling farmland along this unspoiled corridor.
Fort Valley has many chances to explore the wilderness on your OHV (off-highway vehicle). Nearby George Washington National Forest offers wooded trails and incredible views from the largest OHV complex on public land in Virginia. Access the trails at South Peters Mill Run Trailhead, Edinburg Gap Trailhead, and Taskers Gap Trailhead.
Hunting is allowed by permit and in season in George Washington National Forest, and hunters can hope to find deer, turkey, duck, and bear. See the Virginia Department of Game and Inland Fisheries for regulations.
Shopping and Dining
Stock up on...everything at Fort Valley Country Store. Grab a prepared snack or a made-to-order bite to eat like a melt-in-your mouth grilled cheese. You'll also find local goods and wares, handmade cards, deli items, camping supplies, and in-house baked goods.
If you're looking for nearby dining opportunities, pop over to the towns of Strasburg, Woodstock and Edinburg for a variety of dining options, and cafes.
Where to Stay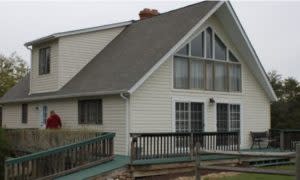 The Retreat at Shenandoah Meadows suits travelers looking for a few nights of quiet camping, or a family looking to host a holiday party or family reunion. This 40-acre space boasts incredible views and easy access to the Shenandoah River and the George Washington National Forest. Amenities include a pool, fishing pond, running trail, soccer field, and more. You can reserve chalets, cabins, and campsites. Three-bedroom Slate Hill Schoolhouse dates to 1871 and sits surrounded by the national forest. The updated property gives direct access to the Mudhole Gap Trail and the network of trails connecting to it.There's even stable space for your horse! Other private lodgings that can be rented and used as bases for exploring Fort Valley include Edith Guest House and Shenandoah Valley Vista.
Camp with your horses and mules at Fort Valley Ranch. Sites range from primitive to sites with water and sewer hook ups. You can join guided trail rides or explore the area trails. Elizabeth Furnace Recreation Area is great for family and group camping and amenities like restrooms with showers and picnic tables will keep you comfortable. There are lots of trails to hike, including the interpretive Charcoal and Pig Iron Trails that explain the iron and charcoal-making process. Fishermen will enjoy dropping their hooks in nearby Passage Creek.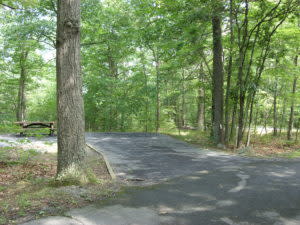 Camp Roosevelt is a small 10-site campground located at the site of the first Civilian Conservation Corps Camp in the country, and visitors can get in touch with history by exploring the interpretive areas near the historic foundations. Hills of the Angels is a private 20-acre camping retreat available for glamping and camping. Just steps from George Washington National Forest, you can enjoy 360-degree views, a canvas tent on a platform, and solitude in nature. And if you're looking for a no-frills camping experience (think vault toilets and no drinking water), nab one of the 9 sites at Little Fort, which was once a rest stop for stage coaches. You'll have easy access to a network of OHV trails.