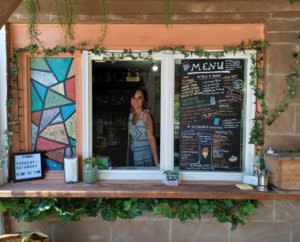 In rural areas like Shenandoah County, many Country Stores still exist along the scenic backroads despite the growth of some modern amenities like chain groceries and big box stores, most of which are concentrated in the larger towns and closer to the interstate.
What then, is a "Country Store?"
A country store, sometimes called Country Grocery or General Store, is one that is set in some of the smaller rural communities. Like a mini-Walmart, they seem to have everything, just on a smaller scale, and are typically owned and run by a friendly local.
Many of these stores in Shenandoah County are still essential to the communities they serve. Visitors can stop along the way and fuel up, get some worms and a license for fishing, some groceries for your camping trip, or a sandwich and an ice cream cone for the road. Finding some of these great little stores can make for a fun scenic drive adventure, because it means getting to drive along some of the most beautiful roads in the region.
Let's start in Strasburg at the northern end of the county. Out John Marshall Highway (Rt. 55) to the West is a great old store called New Star Market.  They have a lovely pavilion outside where you can sit and relax with a great barbeque sandwich made fresh in house. The coolest part of this shop are the newly painted murals on the outside which are colorful and reminiscent of poster-art depicting the beautiful scenery. Melody's Porch right next to New Star Market is a new addition. It's a place to relax, bring your dogs, and enjoy loose leaf tea, bubble tea, and ice cream. Bubble tea (boba tea) is a tea-based drink with tapioca pearls that originated in Taiwan in the early 1980's. The garden setting here offers fruit trees, potted herbs, and calm music.
Just under two miles west of New Star Market is Woodbine Farm Market, a great stop for fresh vegetables and fruit, local jams and honey.
Continue your journey by heading back east on Route 55 through the Town of Strasburg and out to Fort Valley Road (Rt. 678) which will take you into a narrow valley. Surrounded by two branches of Massanutten Mountain, Fort Valley's width is only 3 miles at its widest point and there are only a handful of roads in and out, which makes for some of the most stunning mountain views. We would certainly understand if you wanted to just hang out here! There are amazing campgrounds, cottages to rent, hikes and a horse ranch for trail rides. About 13 miles from the turn on to Fort Valley Road is the Fort Valley Country Store.  You can just imagine how important it would be for folks who live in "The Fort" to have a convenient store to pick up a little whatever happens to be missing from the pantry. Of course it's always nice to have homemade baked-goods, and other local snack foods like Route 11 Potato Chips. Fort Valley Country Store also prepares sandwiches and breakfast foods for those on the go, and if you want to stick around and browse, they offer a little nook to showcase work from artists and craftsmen who reside in The Fort.
Another 7 miles south is the right turn at Edinburg Gap Rd. (Rt 675) that will take you out of Fort Valley and into the town of Edinburg. A left turn to head south down the The Valley Pike (Rt. 11) will take you through this charming little town. Continue a few miles outside of town where you'll find your next country store in a little place called Bowman's Crossing. Foltz Store is also referred to as H&R Mart. They are best known for their AMAZING fried chicken. While it is worth the trip for the fried chicken alone, be prepared to find other goodies like homemade pimento cheese (a southern favorite) and yes, more homemade pies. If you are staying in town, they have daily lunch and dinner specials.
Take the route west from Foltz store (Route 614) which is Middle Rd. just far enough to cross over the highway and make a right on to South Ox Road (Rt. 686). and in one mile you'll see the next country store called Wholesome Foods where you can stock up on meats that are farmed locally. This is also a distribution center so all of that local goodness can find its way to some of the more urban areas. So don't be fooled by the exterior, you can follow signs into a classic little country store. One great product that Wholesome foods is known for is their local spring water. Virginia's Best Artesian Spring Water was awarded the silver medal in the Berkeley Springs International Water Tasting Contest for best bottled water, so take this opportunity to fill your cooler!
Continue in the same direction along South Ox Road until it comes to a "T" at Stoney Creek Rd. (Rt. 675) A left turn here will take you along a lovely two lane road that follows along beautiful Stoney Creek. In 4.5 miles you will reach the end of Stoney Creek Rd and the Junction of Senedo Rd. (Rt. 42) and find Larkins Store on your right. This is a popular spot for gassing up and getting supplies for those who are heading out to Bryce Resort. Locals know it for it's great pizza, but you can also get a fabulous burger or steak and cheese sandwich. Fishing and hunting permits can be acquired, tackle and firewood as well. Larkins Store has everything you need in a roadside convenience store for all of your outdoor adventures, but if you really want to get an authentic local favorite, order a couple of scoops of Garber's Grape Nut ice cream.
Continuing on route 42 East from there, you'll begin to see familiar chain stores and eateries but there's one more Country Store at the Exxon on the left and that's Cook's Country Store offers many of the same things you would find at any of the other roadside stops, local honey and snacks, fried chicken and a few groceries but what sets it apart is it's little shop adjacent to the grocery called Shenandoah Stuff It's a great place to pick up conventional but cool souvenirs at the end of your journey. Postcards and coffee cups, bandanas, refrigerator magnets and t-shirts can all be found here.
Two additional stops not described in the driving loop above, but definitely should not be missed are Jon Henry General Store and Town and Country Superette. Established in 2018, Jon Henry General Store revives its historic structures' past use as a General Store in the 1800s. The Store focuses on sourcing locally, regionally and, if from abroad, they are sourced via Fair Trade systems. Jon's products range from brooms, vintage license plates, jams & jellies, local honey, memorabilia, children's wooden toys, canned goods, meats and cheese, dairy, snacks, candies, and more…
Town and Country Superette  Located in Conicville and close to several wineries in the County, offers weekday lunch specials from 11am-3pm. daily specials like turkey, mashed potatoes, dressing and gravy or spaghetti with meat sauce with garlic bread. Don't forget dessert!
While you're out there on your scenic drive be sure to take lots of pictures and tag us in your social media!
Facebook @VisitShenandoah
Instagram @Shenandoah Travel
For more information or to request a Visitor Guide and Outdoor Recreation Guide go to VisitShenandoahCounty.com