Did you know that January 31st is National Plan a Vacation Day? Since traveling promotes happiness and helps reduce stress. You might just be inspired by all there is to do in Shenandoah County and start planning your 2023 getaways!
Whether it's a romantic trip for Valentine's Day or just hoping to spend some alone time away from the daily grind we have you covered.
You'll find rustic cabins surrounded by mountains and forests. Explore outdoor adventure, soak up the mountain views and unique culture, dine on mouthwatering farm-to-table meals, or just chill and listen to some local music at a local craft brewery or winery.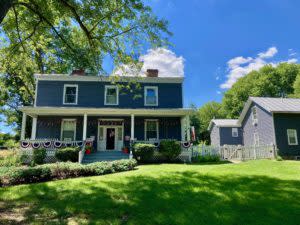 The Family Farmhouse Inn is nestled on seven private acres in Mount Jackson. Each of the four bedrooms in the restored 1830s farmhouse is updated for modern comfort and has a private bath. Amenities include wifi, mini-fridges, microwaves, tea and coffee facilities, and grounds with lawn games and propane fire pits. The inn is close to both the Meems Bottom Bridge and the Rt. 11 Potato Chip Factory.
Cozy Mountain Escape (Mount Jackson) is hidden away in the trees, but it provides great mountain views from large windows and a deck. Amenities include a gas fireplace, high-end linens, games, and baby items for those who are traveling with family.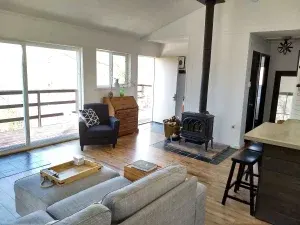 The Light-Filled Mountain Retreat in Shenandoah (Basye) sits high in the mountains near Bryce Resort and Lake Laura. The cabin is decorated in a sleek, modern style. It comes with a fully equipped kitchen and has both open and screened porches for sipping coffee or wine on warmer days.
You'll need a 4-wheel drive to access The Bear Den (Maurertown), but this cozy cabin is a dream come true for a couple seeking some alone time in the mountains. Just steps away from the Massanutten Circuit Trail and the Shenandoah River, the renovated cabin provides a home base complete with fireplace, deck, and hot tub.
For more romantic lodging, check out Visit Shenandoah County's lodging page.
Where to Eat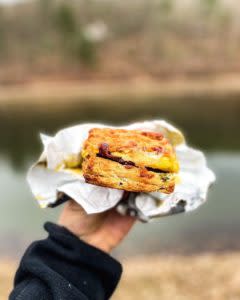 If you're spending time at Bryce Resort or staying nearby, there are a few great places to eat in Basye. Freed's Biscuits is a unique restaurant with a great twist. Their company was founded on one simple belief that "just about everything's better on a biscuit." Bryce Resort has two eateries, The Copper Kettle and a more casual Carter's Hutte which is an outdoor bar & grill. During the winter it's open Friday-Sunday during slope hours offering warm food, cold beer and weekend music.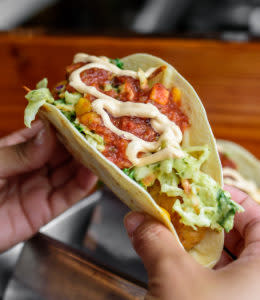 There are plenty of other great spots around the county to fuel up after a good hike, The Woodstock Brewhouse has delicious not-your-average bar food with menu items like "adult mac & cheese" and Chicken Souvlaki. They also have incredible weekly dinner specials posted on social media and on their chalkboard. In Strasburg there's a great breakfast/brunch spot called Pancake Underground which serves the most creative dishes both sweet and savory. It's not to be missed. For terrific Seafood, you can't beat Crabby Maggies. Also in Strasburg, this little restaurant offers a no-frills super-seafood experience with abundant baskets of shrimp oysters, po-boys and weekly specials.
What to Do

Hit the slopes at Bryce Resort for some epic downhill skiing or snowboarding followed by a tasty meal in the Copper Kettle restaurant. You might also explore Bryce Mountain at sunset or by the light of a full moon with a guided snowshoeing excursion. This sport is fun, low impact, burns a lot of calories, and is easy to learn, even if you're an absolute beginner.
Sip a local cold beer at any of our three breweries, each with a wildly different vibe. Swover Creek Farms and Brewery is considered a farm brewery located on a century farm or explore our historic downtowns along the main artery of the counties US Route 11, also known as the Old Valley Pike. There you'll find the Woodstock Brew House and Box Office Brewery both offering delicious bites and an extensive beer menu.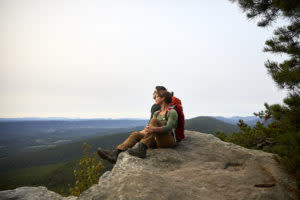 Thanks to a mild winter climate, Shenandoah County offers year-round hiking that will still cause a sweat even in winter. Tackle some of the best Shenandoah hikes without the summer crowds, and enjoy beautiful mountain views before spring and the leaves fill back in.
With over 74,000 acres of Shenandoah County covered in National and State Forest, an abundance of trails is just waiting to be explored. Pleasant scenery, fresh mountain air and diverse wildlife are just an hour and a half from Washington, D.C.