Our Crossroads Your Adventure: New Market, Virginia
There's a lot to do in New Market, Shenandoah County's southernmost town. Head outside for a hike in the national forest or learn some history at the New Market battlefield. Hit the golf links at Shenvallee Resort, take a bike ride, or even learn to skydive! Downtown you'll find lots of Southern-cooked comfort food and locally owned businesses. If there's time on your visit, show your small-town spirit by cheering on the New Market Shockers and the New Market Rebels baseball teams.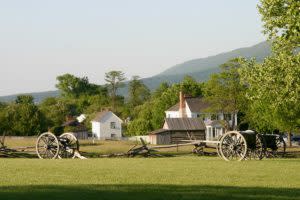 Attractions and Recreation The Virginia Museum of the Civil War focuses on the Battle of New Market, which was fought here on May 15, 1864. The battle is remembered for the young VMI cadets who fought and also for how the Confederate army held off a larger Union army and delayed the capture of Staunton. Visitors can tour the museum's exhibit galleries and the Bushong farm, which was used as a makeshift hospital during the battle. Make sure to watch Field of Lost Shoes, a film based on the battle. You'll also see important sites on the 300-acre battlefield and explore miles of walking trails with incredible views of the Valley. There are two overlooks of the North Fork of the Shenandoah River and a Civil War-themed Virginia LOVEworks sign.
Shenvalee Golf Resort will delight golfers with a 27-hole PGA golf course that can be played in up to six different combinations. Relax after your round at the onsite accommodations and Miller Grille. Special packages provide lodging, breakfast, golf, and a cart.
If your family gets its seasonal fix by bonding over the bounty of the land and grabbing great selfies while doing it, head to Champion U-Pick Strawberries. Alpine Tree Farm is great for winter fun and beautiful white pine, scotch pine and Norway and blue spruce.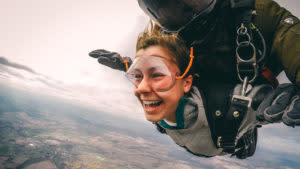 Are you a thrill seeker who wants a bird's-eye view of the Valley? First-timers and experienced divers can both strap in at Skydive Shenandoah, which offers tandem jumps and a comprehensive training program for those who want to be licensed divers. If you'd rather spend a quiet day fishing, swimming, or kayaking on the river, New Market has a public access point to the North Fork of the Shenandoah River. There's no boat ramp, but it's good for wading and hand-launched crafts.
Look for upcoming shows at the Rouss Center for the Arts, a volunteer-run community theater that puts on plays and musicals, screens classic movies, and more. The historic building was once the New Market Fire Department with an opera house on the second floor. The onsite gallery displays the work of local and regional artists.
The Massanutten Storybook Trail isn't long or difficult, but it leads to a spectacular scenic overlook of Page Valley and the Blue Ridge Mountains. Accessible for strollers and wheelchairs, the .5-mile out-and-back stroll features walkways and interpretive signs explaining the geological forces that created the mountain. For added fun, try to find the pair of geocaches located along the trail. Similar short, easy, and educational trails are Discovery Way Trail and Wildflower Trail. The Wildflower Trail hike may be extended to Bird Knob Trail and Emerald Pond. This 8-mile hike is rated easy and has both big views and a spring-fed swimming hole. Experienced hikers will want to try the challenging Strickler Knob hike. This seven-miler includes a rocky scramble near the top, which pays off with 360-degree summit views of the Luray Valley and New Market Gap.
Shopping On Friday afternoons from spring until fall, the New Market Farmer's Market spills over with beautiful displays of fresh fruit and produce, jams and jellies, baked goods, local honey, peanut butter and more. Don't miss New Market's Open Market, which runs from May through December. On the first Saturday of each month, vendors come out to share their crafts, homemade goodies, and more. Foodies will also like Jon Henry General Store, which stocks a wide array of local and regional goodies including foods and fresh veggies. You can also buy meat, dairy items like cheese and milk, gifts, memorabilia, toys, and even jeans and Silly Socks. Treat yourself to something fun! Visit Tobacco and More to stock up on your smoking and vaping needs at the best prices. Customers rave about the good service.
Lovers of all things vintage will adore New Market Flea Market. Shop for furniture, jewelry, coins and collectibles, and decorative decor in this large, indoor space. If you're looking for something with a history for your home, visit Simple Tymes for antiques, primitive decor, and handmade furniture. If you're like most people and keep your precious memories stacked in a shoe box, Pictures Remembered will help you archive, repair, or even colorize your family's historic photographs.
The ButterCup boutique sells home decor, cool jewelry, and size-inclusive women's clothing. Check the website for updates on the Meet the Maker series. Locally owned and operated, Valley Sports Connection has been selling sport-focused gear and gifts since 2009.
Events
New Market knows how to have a good time with a host of free events each year. Bring your chairs and blankets to Movie Night in the Park. Hang out under the stars and watch family-friendly flicks with community members from May-September. New Market also offers an annual Easter egg hunt (and a chance to meet a certain bunny), and an Earth Day/Arbor Day celebration with a scavenger hunt, tree plantings, and more. Other events include the Jammin' Food Truck Fest with lots of delicious food to try and a stellar lineup of free music, Cross Roads Fest in Rebel Park, an Independence Day Celebration with fireworks, the Fire and Rescue Fall Fling, and downtown trick or treating. Celebrate all things local at the Heritage Day Celebration and let the kids bond with the police at National Night Out. Finally, bring on the holidays with a Tis the Season event and a Flashlight Candy Cane Hunt.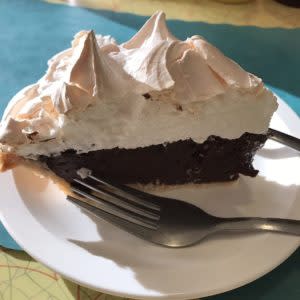 Where to Eat
The Jackson Corner Cafe offers soups and sandwiches, salad, quiche, and pastries. You'll want to wash that down with a cup of Crazy Fox Coffee Roasting Co. coffee. This local small-batch, artisan roaster buys beans from farms that emphasize sustainability.
Enjoy locally-owned Southern Kitchen for breakfast, lunch, or dinner. They serve Southern classics like peanut soup, and sirloin barbeque beef tips. Try Meatloaf Monday or the Wednesday night all-you-can-eat fried chicken wing special followed by fruit pie or fritters. Alternately, sit down for a steak or chicken dinner at Kathy's Home Cooking Cafe. You can also
get an array of sandwiches including a "Hillbilly Burger" and fried bologna. However, if comfort food to you means pizza, subs, or entrees like chicken fusaro or baked ziti, The Italian Job is a good spot to dine in or carry out.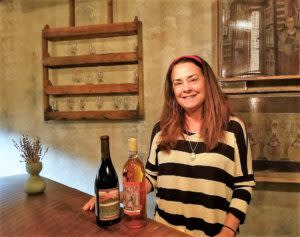 Take a short drive to Quicksburg to 3rd Hill at De Mello Vineyards, where you can relax with a glass of Virginia wine, a view, and live music most Saturdays. End your day the right way with some soft serve from Pack's Frozen Custard. Try chocolate, vanilla, and seasonal favorites like black raspberry or pumpkin in a dish, cone, sundae or one of the best shakes you'll ever have.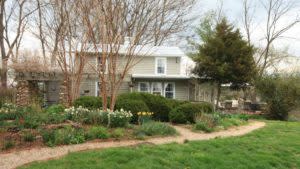 Where to Stay
The elegantly restored Victorian Blue Ridge Inn Bed and Breakfast is over 100 years old. Each of its rooms is decorated according to a theme, including a garden room, a lighthouse room, a sports room, and even a Marilyn Monroe Room. Stays include hot breakfasts made from scratch and emphasizing fresh and local ingredients. Rooms at the Cross Roads Inn B&B are furnished with period antiques and four-poster or canopy beds. They have private bathrooms and are close to everything New Market has to offer. The Jacob Swartz House is a historic two-bedroom, two-bath cottage high above the Shenandoah River. Once a cobbler shop, it's now a cozy getaway that features a full kitchen, a sunroom overlooking the river, and large, seasonal breakfast showcasing fresh, local products that's served on the terrace as weather permits.
New Market's brand hotels include Quality Inn, which serves a free hot breakfast, and Days Inn by Windham, which is close to the battlefield, offers a free breakfast, and welcomes pets.
 New- New Market Video
https://youtu.be/5RWXF4O_Dp8