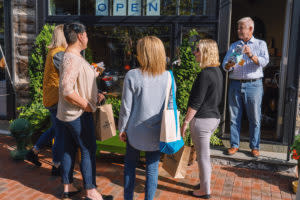 Nestled along the "seven bends" of the Shenandoah River's north fork, Woodstock is one of the oldest towns in Virginia and serves as the County Seat of Shenandoah County. Take a walk down Main Street past historic homes, green spaces, and locally-owned shops and restaurants, or head to one of the nearby natural treasures like the George Washington National Forest. Woodstock is home to the oldest active courthouse west of the Blue Ridge, constructed from the area's native limestone. It's also where, in 1776, "fighting parson" John Peter Gabriel Muhlenberg dramatically revealed his officer's uniform during a sermon, inspiring his congregation to join him during the Revolutionary War. Visitors will find lots to do in Woodstock, including thrilling outdoor adventures, arts and crafts, live music, and even harness racing!
What to Do/Attractions
Spread out a blanket and enjoy a summer night listening to the Woodstock ROCS outdoor concert series in W.O. Riley Park. Browse the work of established and emerging artists at 7 East Gallery or the Shenandoah Valley ArtFest in Court Square. Put your culinary skills to the test with WoodsTACO, and plan to spend your holidays in Court Square with Halloween on Court Square and Light up Woodstock. Check out the full schedule of annual events in Woodstock.

If you're in town during fair season, don't miss the sights and events at the Shenandoah County Fair. There's something for everyone, including big-name bands, livestock demonstrations, midway rides and games, great food, beauty pageants, demolition derbies, motorcycle races, and more. If you like the excitement of horseracing, you should take in some Shenandoah Downs harness races at the fairgrounds during the annual fall racing season. Make a point to attend Shenandoah Autumnfest, where you'll see harness racing, classic cars, live music, taste sweet and spicy barbeque, wine, spirits, and craft beer.
The Woodstock Community Theatre has operated since 1940 when it showed movies and performances on its screen and stage. Once a horse trotted across the stage! The Art Deco theater was considered modern and cutting edge in its time. Plan to take in a movie on one of its two screens.
For over 50 years, the Woodstock Museum has helped modern visitors learn about the area's history and the lives of early settlers through local and regional artifacts. The museum consists of two 18th century houses located near the historic Shenandoah County Courthouse Museum & Visitor's Center. The 1795 limestone courthouse contains graffiti made by Civil War soldiers as well as rotating exhibits featuring the history of the county. Civil War history lovers will also enjoy exploring Massanutten Cemetery, the final resting place of 70 Confederate soldiers.
If you're looking for a fun and crafty activity for friends, arrange to meet for a night of paint-your-own pottery and other arts at The Art Spot. Check the schedule for classes and workshops.
What to Do/Outdoor Recreation
Want to see what the eagles see? Here's how to view the Valley from the sky. Hikers can access (and climb!) the Woodstock Tower, constructed by the Civilian Conservation Corps. It has an incredible 360-degree view of Shenandoah and Fort Valleys and it's only a one-third of a mile out-and-back hike from the trailhead. The more daring among us can launch hang gliders from the beautiful and popular Woodstock Hang Gliding Site on Massanutten Mountain's western slope.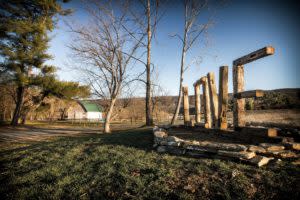 Just a few miles from Woodstock, Seven Bends State Park provides over a thousand acres of natural land and eight miles of hiking/biking trails, some of which follow a twisty portion of the Shenandoah River. The park provides easy river access, including two boat launches for kayaks and canoes as well as seasonal nature and history programming in the summer. Hikers and bikers who are hungry for more can connect to a web of trails running through the George Washington and Jefferson National Forest.
Hikers can also enjoy the national forest to the west of Woodstock by claiming a primitive campsite at Wolf Gap Recreation Area and using it as a base to explore some of the area's amazing hiking like Big Schloss or the quieter Tibbet Knob. Both hikes can easily be completed in an afternoon and offer panoramic views.
Indian Springs Wetland Park is a one-acre natural site west of town that's been there since the Native Americans and early European settlers used it when traveling. Plan a quick stop to check out the small educational viewing platform. An interpretive sign teaches about the importance of wetlands. 
Shopping
Get a fun and healthy start on a Saturday morning at the South Street Barn Market. This year-round, dog-friendly market is chock full of seasonal fruit and baked goods. Additionally, shoppers can find handcrafted arts and crafts and chat with the vendors. Don't forget to spend some time browsing some of the freshest fruit and veggies in the Valley at Adams Apples & Herbs and Mowery Orchard, where you'll also find fire pits for sale.
Shoppers looking for gifts and art can find the work of talented local artists in a variety of media showcased at 7 East Gallery or wheel-thrown ceramics at Kary Haun Studio. Nate & Main sells a curated collection of fine art, gifts, and garden goods. Three French Hens deals in fun and unique gifts, including vintage hats, antiques, and "girlie-girl things." Speaking of, there is a fabulous boutique clothing shop called The Buttercup.
If you are looking for more great local gifts, and souvenirs, Travelers Treasures is just across the street from the old courthouse. There you will also find local products like jewelry, soaps and lotions, gift baskets, honey, gifts for cooks, and more.
Where to Eat
Woodstock will keep you busy, but you'll eventually want to slow down for a meal. Enjoy a lunch surrounded by plants at Woodstock Garden Cafe located inside the Fort Valley Nursery. The cafe uses fresh, local ingredients and the menu changes seasonally to reflect what's fresh. Another place to get a delicious lunch is Flour and Water, which specializes in chef-designed sandwiches on fresh-baked breads, fresh soups, quiche, pastries, and more. Don't leave without a loaf of bread for later.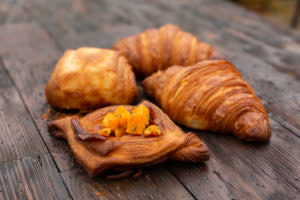 Craft beer lovers will find lots of great tastes at Woodstock Brewhouse. Accompany your brew with appetizers like wings and roasted beets followed by sandwiches or platters like jerk chicken, and fish and chips. You can also get drinks and some of the best burgers in town at the local favorite the Spring House Tavern. Woodstock Cafe serves decadent brunches, lunches, and dinners. Try the pan-roasted NC trout or the sweet corn agnolotti and a seasonal dessert or swing by Sugar Creek Snowy and Sweet for over two dozen flavors of hand-dipped Pennsylvania Dutch-style ice cream.
Where to Stay
Up to seven guests can relax in luxury when you rent Stickley Hall, a large, classic Italianate home built in 1868 and updated for modern convenience. Learn the history of the house's builder, stroll to downtown Woodstock, and easily access all the area's natural beauty. If you're looking to host an event or a getaway for a large crew, consider Shenandoah River Lodge, located on 160 acres with river frontage. Glampers will adore Cottage on the Seven Bends, a screened cottage with a deck that overlooks the river and comes with kayaks, canoes, and river access for swimming.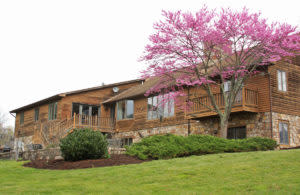 Woodstock is home to a number of your favorite brand lodgings including Hampton Inn & Suites, a newly renovated Holiday Inn Express, both of which serve a complimentary hot breakfast. Comfort Inn and Econo Lodge have outdoor pools, hot breakfasts, and will accommodate your pet.