Hit the Mountain for Winter Sports and Fun in Shenandoah County Virginia
By Keryn Means, DCTravelMag.com
Winter is here and with it loads of outdoor fun and indoor experiences to keep you and the entire family excited to explore and play in the colder months. While there are loads of things to do in Shenandoah County throughout the year, winter may just be our favorite. 
Why? Snow of course! And yes, even if you don't see snow in the forecast, they are making snow over at Bryce Resort. But if snow isn't your thing, don't worry. You can also wander underground in caverns, ride a horse in the national forest, take a hike, and even learn about the local history as you explore across the county. 
Winter mornings in Shenandoah County
As you make your way into the area, stop at Pancake Underground in Strasburg to enjoy homemade chicken and waffles before your morning hike or you strap on your ski boots. Owners Christopher Kemp and Shenan Hahn, both Virginia natives, even do a Nashville-style hot chicken and waffles, along with pancakes, French toast, potato bowls, sandwiches, yogurt bowls and sweet treats. If you are in a hurry, they are happy to make your order to go. 
Learn to Ski and Snowboard at Bryce Resort
The best place to find snow and learn how to ski or snowboard in Shenandoah County is at Bryce Resort. This local mountain is beloved by those who live in Basye, VA, but also as a weekend getaway for Washington, D.C. residents. Since the resort is only about a hour and a half from the Nation's Capital, you can even make a day trip out to the slopes. 
The ski and snowboard school at Bryce offers group and private lessons, as well as snow camp for younger kids to hang out in while their parents hit the slopes. There are five trails of various difficulties, but most are Blue with one nice winding green for those looking for a slower pace. 
Food options range from the full sitdown experience at the Copper Kettle Restaurant, Bar & Lounge to cafeteria style eatery at the Shenandoah Center, and an outdoor bar that serves beer, hard ciders and hot waffles covered in baked apples. There is more than enough seating inside and outside, even on weekends to accommodate everyone. 

Snowshoeing with Rev3Endurance
Not everyone was born to be a skier or snowboarding, which is when alternative snow activities come in handy. Rev3Endurance teamed up with Bryce Resort to bring sunset snowshoeing to the mountain. 
Work up a sweat as you hike up the ski slopes, going as quick or slow as you like. For those not familiar with Bayse, VA, you can learn a lot about Shenandoah County from owners/guides Christi Manning and Michael Spiller as you hike. Excursions are for every skill level, so if you aren't quite ready to spring up a snowcovered hill in snowshoes, don't worry. Christi and Michael know where to hike and at what pace for all skill levels. 
Book a snowshoeing excursion now. 
Once you are done your snowshoe excursion, grab a drink and tapas at RHouse Wine and Coffee. Juan Lucca and his wife Chef Gisela will wine and dine you with beautiful wines, local beers and delectable bites. Do not miss the flan. It's incredible!
Ice Skating in Shenandoah County
If you have ever dreamed of twirling on the ice, you can do it at Bryce Resort, the only ice skating rink in Shenandoah County. Grab a combo ticket with snow tubing to save some money, or just tickets to an ice skating block, along with a few warm layers to skate in. You will get warmer than you think as you slip and slide trying to perfect that triple axel.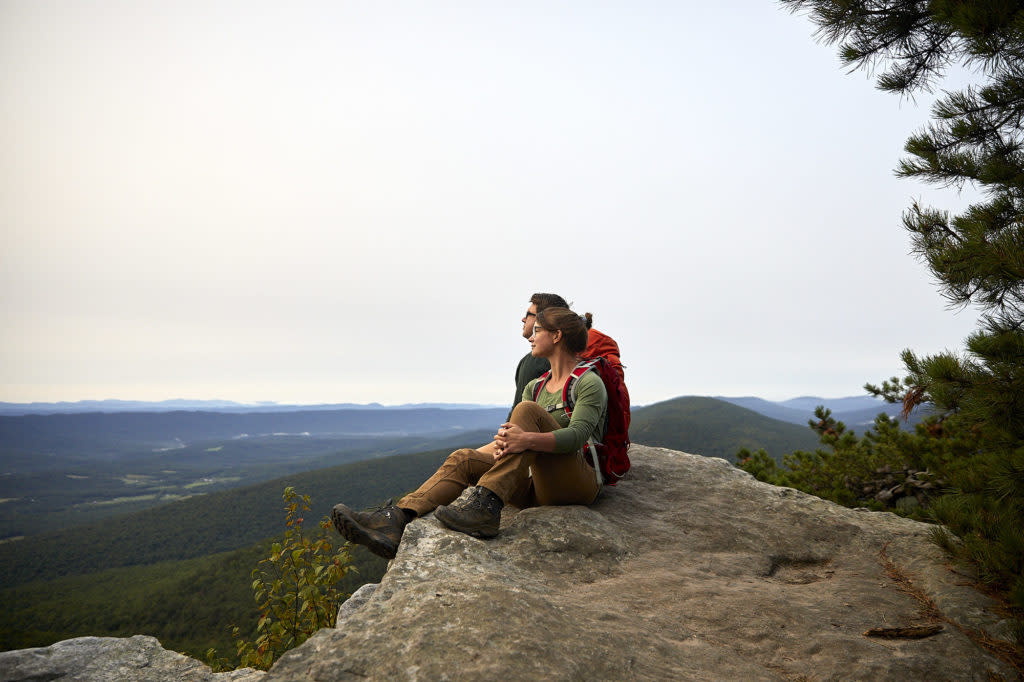 Winter Hiking in Shenandoah County
Thanks to a mild winter climate, Shenandoah County offers year round hiking that will still cause a sweat even in winter. Tackle some of the best Shenandoah hikes without the summer crowds, and enjoy beautiful mountain views before spring and the leaves fill back in. 
In Strasburg you can hike Buzzard Rock North, a 4-mile hike, or pop over to Toms Brook to hike all or a portion of the Tuscarora- Little North Mountain trail (8+ miles). If you are in Woodstock, you can include a hike up the Woodstock Tower Trail  or check out the waterfall on the Falls Ridge Hike. Families love the leisurely hike around Lake Laura at Bryce, while hardcore hikers will want to save time to hike Big Schloss. 
Check out more Shenandoah County hiking trails. 
If you have built up an appetite, make sure you grab a reservation at Woodstock Cafe for a dinner like no other in the county, filled with gourmet entrees, exquisite homemade bread and a stellar wine list. If you don't have time for dinner, make sure you go into the shop to pick up wine, local beers, a slice of cake to go and a few gifts. The prices are incredible. 
Shenandoah Caverns and American Celebration on Parade
Shenandoah Caverns are open year round, thanks to a steady temperature of 56 degrees fahrenheit underground no matter the season. Look for special events like UNCORKED (wine tasting below ground), cider candlelight tours, and the Shenandoah Souvenir and Gift Show, which will show you a different side to this underground wonderland, even if you have already visited. 
Grab tickets to Shenandoah Caverns before you go to secure your spot. 
Winter Golf
Golf in Shenandoah County doesn't stop just because the calendar changes. Mild days are the perfect time to hit the links, especially when courses offer beautiful mountain and lake views with fewer crowds than you might see in the summer. Book a tee time at Bryce Resort's 18 hole championship course filled with treeline fairways and a small creek that winds through the links. 
Alternately, you can book a time to visit the 27-hole PGA Shenvalee Golf Resort. It was first opened to the public by Bobby Jones in 1927. Families will love that there is lodging and a pool onsite for the kids.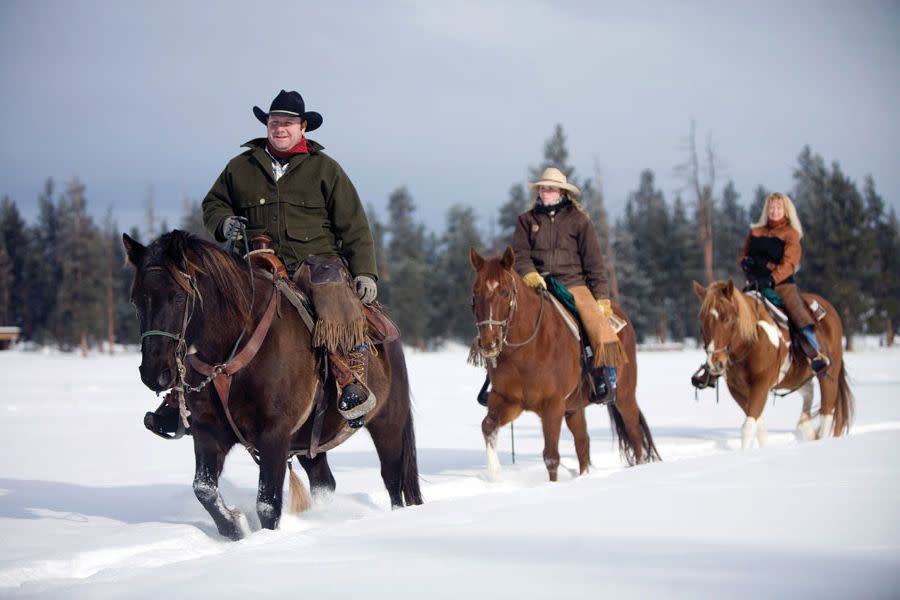 Go on a Trail Ride with Fort Valley Ranch
Horse lovers, and those who enjoy a leisurely trail ride, will want to book a one-hour, 90-minute or half-day ride through George Washington National Forest. Wander through trees, up hills and enjoy the quiet beauty around you.
Reservations must be made ahead of time for all trail rides, by calling the Fort Valley Ranch to make a reservation. 
Dig into the hot chocolate scene in Shenandoah County VA
Winter means hot cocoa, especially for kids, so why not enjoy a few across the region. Start at Flour & Water, a bakery with sublime pastries, bread and amazing lattes, who also happens to have hot cocoa on tap for kids (and chocolate lovers). 
Alternatively, if you want to bring a little hot chocolate back home or to your rental cabin, you can pick up hot cocoa bombs at Happenings on Main Street in Woodstock, VA. 
More spots to enjoy hot chocolate in Shenandoah County, VA: 
Woodstock Cafe (Woodstock, VA)

Woodstock Garden Cafe (Woodstock, VA)

Jacksons Corner Cafe (New Market, VA)

Curtain Call Coffee (Mt Jackson, VA)

Nancy's Coffee Bar (Strasburg, VA)
Explore Route 11 Through Shenandoah County
Winter is the perfect time to wander down Route 11 in Shenandoah County to see the historic sites, like Meems Bottom Covered Bridge and Fisher's Hill Battlefield. 
Pop into John Henry General Store for a few souvenirs, jams, jellies and snacks as you wander. You can also visit Route 11 Potato Chips to see how this beloved local chip is made, and sample a few as well. 
If you are interested in Civil War history, Virginia's Museum of the Civil War is a must. Ski in the morning and check out this museum that digs deep into American history and the war between the North and the South.