By Keryn Means, DCTravelMag.com
Anyone who lives in Shenandoah County will tell visiting friends about the number of stars they see each night. For city-dwellers who try to see constellations through the light pollution all around them, this is a great excuse to visit more often.
By renting a cabin, or booking a home in some of the more remote areas of the county, you will be able to go outside at night, look up and see a vast sea of stars, planets, and if you are lucky (and there at the right time of year), the Milky Way.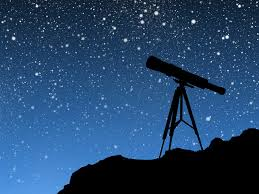 Shenandoah County Stargazing Parties
Shenandoah County loves their stars, and even hosts several free stargazing events throughout the year. The Shenandoah Astronomical Society hosts "Star Parties" with the Shenandoah County Parks and Recreation on many Saturday nights throughout the year.
Club members bring out their telescopes and are happy to let you look into the heavens, if your own binoculars don't quite get you there. Keep an eye on their Facebook page before planning your date. Star parties always depend on the weather conditions. After all, if it is cloudy, you won't see any stars up there.
The Star in the Valley Vineyard in Strasburg, VA also hosts stargazing events with the Shenandoah Astronomical Society, which are announced on their Facebook page. and our EVENTS page. Lay back with a glass of wine and snacks from one of the local food trucks invited to the event. Children are welcome to come with their parents to enjoy live entertainment and stay up late (until 11pm) for prime stargazing opportunities.
Shenandoah County Rentals with Ideal Stargazing Locations
All throughout Shenandoah County you will find hotels, B&Bs and apartments to rent, but it is the Shenandoah cabins and rental homes that will really get you away from any light pollution so you can see more stars.
Working our way down Route 11, here is just a sampling of the accommodations you could book when you plan a trip to Shenandoah.
Woodstock, VA
Shenandoah River Lodge
Situated on 160 acres, the Shenandoah River Lodge on Franley Farms is a secluded spot for your next family vacation or family reunion. The property has one and a half miles of river frontage and plenty of river access for fishing.
Four bedrooms means everyone can spread out for a good night sleep after winding down in the 6-person hot tub. Bryce Resort is just 20 miles west, making it easy to plan your ski trip or mountain biking adventure, while still having a quiet space to rest your head.
Strasburg, VA
The Cottage at the Barb Farm
The Cottage at the Barb Farm is an adorable rental situated right next to a stream on the historic Fisher's Hill Battlefield. Strasburg is just 15 minutes away if you need to get into town, but it's the quiet country living that makes this spot so grand.
The two-story cottage boasts one bedroom with a queen bed and trundle, perfect for small families looking to get away. You'll have plenty of room to play outside and look up at night to check for shooting stars.
Cedar River Retreat ~ River Access ~ King Bed
Book a stay at the Cedar River Retreat, a log cabin just 5 minute drive from Strasburg. This three-bedroom rental is close enough to town to do some antiquing, wine tasting and grab a bite to eat, but far enough that you can be by yourself, well, except for the resident grandpa groundhog lovingly referred to as Willy by the owners (he likes apples).
The cabin has river access so you can float down the river in summer, go for a paddle or simply sit back and listen to the soothing sounds of water.
Earl's Place at Shenandoah Caverns
You can't get any closer to Shenandoah Caverns when you book a stay at Earl's Place right on the cavern grounds. Meals can be delivered right to your door from the Shenandoah Caverns Cafe, and you can even put in a few special requests with the chef ahead of time.
Seven bedrooms and free parking make this the perfect spot for families to meet up and enjoy a quiet weekend together. Kids will love poking around the Yellow barn, where you can visit the resident goats and chickens.
Grist Mill Cabin Overlooking Creek
Sleep in a piece of history when you book a stay at Grist Mill Cabin, a historic 18th century water mill's cooperage. Sit on the porch that overlooks the old mill and water wheel, with Holman's Creek running through the property.
The open concept two bedroom cabin is surrounded by woods, orchards and farms, but an easy drive to wineries, breweries, Bryce Resort, hiking and Shenandoah Caverns.
Edinburg, VA
Cabin on the Seven Bends
If you dream about glamping, but like four walls around you, check into the Cabin on the Seven Bends. Guests park at the top of the hill and hike down 200 yards to the River Perch that looks over the North Fork of the Shenandoah River. You are welcome to use the kayaks and canoes on property and watch the sunset from the dock.
There is an auxiliary deck in the trees where you can pitch your tent or simply lay under the stars at night in the warmer months. In winter, retreat into the indoor enclosed cabin with a small heater inside to keep you warm.
Mount Jackson, VA
LOG HEAVEN at Bryce Resort!
Step inside a custom-build log home at Log Heaven at Bryce Resort. This three-bedroom guest home is pet-free with a full kitchen to satisfy all of your gourmet cooking needs (or just to make toast and coffee in the morning).
Loads of windows fill the home with light throughout the year. The deck outback is perfect for spotting wildlife and late night stargazing. You are minutes from Bryce Resort, making this the perfect spot to set up when you want to take the family skiing or meet up with friends for a summer hike.
Deluxe Cabins at Shenandoah Valley Campgrounds
Step into one of the four-season cabins at Shenandoah Valley Campgrounds when you want to go camping, but have access to few creature comforts of home. Each cabin can sleep up to six people, has heating and air conditioning, plus a small kitchenette with refrigerator, microwave and coffee maker. Cable TV is in each unit, but with so much space to run around outside and a fire ring, grills and picnic tables available, we don't think you will be inside too much.
Please note, there is no bathroom or shower in the cabin. You will have to walk to the bath house across from the cabin. Guests will need to bring their own linens, and pets are not allowed.
The Hay Loft
Get away from everyone at the Hay Loft, which sits on 43 acres of land overlooking the owner's hay farm. You'll get great views of the Shenandoah Mountains in this one-bed studio loft, with decor inspired by the family's Arbogast Grain Mill.
As the sun comes up, sit out on your balcony as you sip your morning coffee. Don't be surprised if you hear roosters crowing and cows mooing in the fields of nearby farms. With no trees to block your view, this is a prime spot for stargazing from the comfort of your loft.
Please note that children and pets are not allowed in this property and there are a lot of stairs to climb. 
Bayse, VA
4 Seasons Chalet Awaits You at Bryce Resort
Snuggle up with your loved ones at the 4 Seasons Chalet, just a mile from Bryce Resort. The wrap around porch looks into woodlands where you will see deer and other wildlife wandering about throughout the day and even into the night. If there is snow on the ground, having 4WD is a good idea, as there is hilly terrain to get to the property.
Kids (and gamers) will be thrilled to hear that there is Wi-Fi throughout the property, along with an Xbox for streaming Netflix and other video services (must log into your own account). Cable TV is also available in the main living room TV. Or skip the screens entirely, build a fire in the fireplace and pull out the board games stashed away in the cupboard for guests to use.
Idyllic Mountain Retreat
Start planning your ski getaway when you book the Idyllic Mountain Retreat. Families can get together with grandmom and grandpop, or a close group of friends can bunk up in this large home that can fit up to 12 guests in six bedrooms.
You will never be bored when you are 22 miles north of Bryce Resort, close to the national park and Seven Bend States Park. The owners are on site in a separate unit, if you have any questions or issues pop up. The property is accessible for those with mobility issues.
Fort Valley, VA
Fort Valley Ranch
If you love horses, or plan on doing any horseback riding, Fort Valley Ranch is the best spot to call home for a few days. This working farm offers trail rides to day visitors, but also has cabins and camping spots to rent. You can even bring your own horse. There are plenty of spots in the corral, either covered or uncovered.
Cabins sleep 2-8 people, depending on the cabin you book. You must bring your own linens (towels, sheets, blankets and pillows), but a kitchen with a refrigerator, microwave, toaster and coffee maker, comes with pots, pans, dishes and utensils. Wi-fi is available in all of the cabins, plus picnic tables and a fire ring to enjoy outside. All cabins have heating and air conditioning to keep you warm or cool throughout the year.
Check out their special Ranch packages that include your cabin and trail rides too. 
Orkney Springs, VA
Shrine Mont
While normally a spot companies rent out for a retreat, or families book a wedding or family reunion, Shrine Mont has six winter cottages that can be booked throughout the season. These cabins are perfectly located for anyone who wants to ski, snowboard or tube at Bryce Resort.
Each cabin is equipped with a television and Wi-Fi for remote work or learning. You do need to bring your own blankets, pillows and towels; sheets and bath mats are provided.
St. Andrew's Cabin is the largest "cabin" to rent. It was built in 1941 by Shrine Mont's founder, The Rev. Dr. Edmund Lee Woodward. The property has more of a farmhouse look, sleeping up to 20 people in five bedrooms with a wood burning fireplace in the two living rooms and a kitchenette for making meals. Sit on the porch in a rocking chair, listening to the sounds of nature all around you and looking up at the stars above.
If you need something a bit smaller, you can book the 19th century five-bedroom Vienna house. There is a working fireplace and kitchenette. Best of all, this cottage is available year round with central heat and air conditioning.
Other cabins you can rent at Shrine Mont include Hillside Cottage, Meade Cottage, Stidley Cottage and Churchill Cottage.