With cooler nights, long evening shadows, and the smell of apple butter in many shops and farm stands Shenandoah County in the fall season is a feast for the senses. Foliage colors fill the Mountains to the East and West which feels like a warm hug from Mother Nature.
A fine scenic drive with the windows rolled down is one great way to enjoy the beautiful season but several stops along the way provide highlights of experience to round out a perfect leaf-peeping day.
HORSEBACK RIDING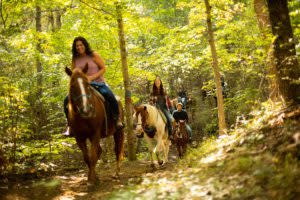 Take in the trails and fall leaves on horseback through the George Washington National Forest with a guided tour at Fort Valley Ranch. There you can also bring your RV, Bring your own horses, Rent a cabin or do some rustic camping on site. They offer 1 hour, 90-minutes, a half-day, or full day rides, as well as 2 day Ranch Packages. Secret Passage Ranch which is also located in Fort Valley, will match their horses to the rider for a very personalized experience. Riders of all ages can explore the beautiful fields, woods and mountains of Appalachia. Enjoy a trail ride, take a lesson, board your own horse, or join in the many unique happenings at Secret Passage Ranch.
PUMPKIN PICKING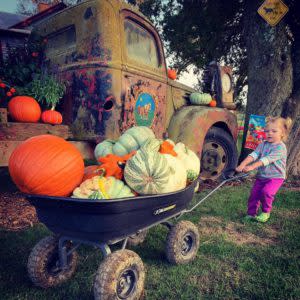 A great stop for picking pumpkins is Sycamore Banks Farm in Mount Jackson where you can grab a wheelbarrow and pick your pumpkins straight from the vine. No ordinary pumpkins are grown here, there are many heirloom varieties and gourds of all shapes and sizes.
They also have plenty of extra activities for the entire family like a horse drawn wagon ride on their beautiful farm property. They are open from late September through October 31
FARM MARKETS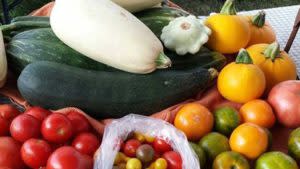 Your one-stop-shop to celebrate fall, Woodbine Farm is an open and airy farm stand that appears to come alive when the seasons change. Large pumpkins and gourds line the front walk on haystacks and a perfect array of garden chrysanthemums  and other fall plantings. Inside are gifts and produce, birdhouses, and apple butter, cheeses, country ham and some of the best homemade cookies in the world. Seriously, it's hard to walk away without one!
Jon Henry General Store in New Market offers a huge selection of pumpkins and gourds, some for decorating and some for cooking. While you're there you can check out the "Art-o-Mat" and stock up on natural and local foods.
KINDRED POINTE CIDER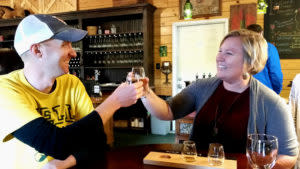 Not your typical fall cider experience, leave the kids at home because this is sparkly hard cider with flavors to get excited about The Winery at Kindred Pointe was originally a Horse farm and stable but the barns and outbuildings have been transformed into a winery and tasting room, the grazing fields all lined with grapevines now. A few years after opening the owner couple began making cider as well, and the title "Life is Hard Cider" emerged with flavors such as "Hard Times" "Hard Core" and "Hard Up". Seasonally there are special flavors like "Seasons Greetings" with hints of all the best holiday spices or "Cherry Bomb" a cherry flavored cider with a jalapeno kick at the end. It is available only for a limited time. Their tasting room is warm and cozy with plenty of room to relax and enjoy Life is Hard Cider.
FALL CULINARY & FARM-TO-TABLE DINING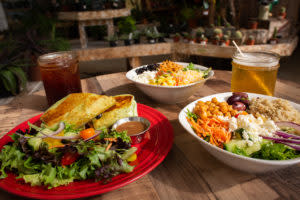 After a brisk hike, horseback ride or picking out pumpkins, celebrate Shenandoah County's agricultural roots by dining in one of many establishments that value locally-grown foods and sustainable farming. The owners of  Swover Creek Farm Brewery in Edinburg, and the Woodstock Garden Café all source their ingredients from their own family farms and are committed to serving the freshest foods at their tables.
RIVER BLUFF FARM B&B
After a visiting a few of Shenandoah County's Wineries, Breweries, Cideries or Distilleries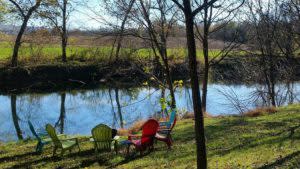 the River Bluff Farm Bed & Breakfast is a quiet and idyllic place to settle in for the evening, then sit outside and watch the Shenandoah River flowing  slow and lazy with a warm beverage and good company  from the comfort of an Adirondack chair. Accommodations are described as "rustic elegance" in this lovely log and timber lodging on 20 private acres. River Bluff Farm Bed and Breakfast is located at 183 Quicksburg Mill Lane, in Quicksburg near New Market, VA.
The word Shenandoah evokes a sense of beauty. Shenandoah County is filled with beautiful scenery around every turn, and sweet small town charm in its daily life. There is plenty to do and see over a weekend visit in the Fall, an easy weekend excursion only 90 miles west of Washington DC. Immerse yourself in the landscape, enjoy the friendly atmosphere and have an adventure in Shenandoah County.
Other fun things to do in the fall season: