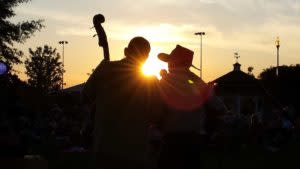 As summer draws to a close, it's time to look toward cooler days, brisk nights and the "turning of the leaves". Soon the valleys and mountains' shades of green will morph into spectacular blazing reds, vibrant oranges, and mellow golds. No place is more beautiful for a weekend getaway than Shenandoah County!
Whatever your pleasure is…hiking, wine-tasting, festivals, kids activities…enjoy all with the backdrop of the valley's stunning vistas and fall foliage.
Take a short hike and check out a spectacular view of the fall colors, seven bends of the Shenandoah River and scenic Fort Valley all from the Woodstock Tower. Once a fire tower, this vantage point provides breath-taking 360 views. Check out the sky and you might catch hang-gliders soaring from a launch point nearby.
For those who relish more rigorous hikes than the fire tower provides, Shenandoah County offers myriads of hiking trails at all levels of challenge. One such trail in Fort Valley, Kennedy Peak, provides an invigorating day hike with a fabulous view at the top or saddle up at nearby Fort Valley Ranch to explore mountain trails and enjoy the fall colors from horseback.
If your fancy is festivals, fall is the perfect time to catch one or more of Shenandoah County's offerings. From foot stomping bluegrass music to local handmade crafts, to fresh-baked goods and more …it's all at the festivals celebrated throughout the area during the autumn harvest season.
Fall is also the season for taking the kids out to a pumpkin patch like Sycamore Banks Farm and while you're in the area, make a stop at historic Meems Bottom covered bridge nestled in resplendent fall foliage.
Or you may want to wind your way down county roads to The Winery at Kindred Pointe  where you can relax and enjoy a glass of hot, mulled wine or their delicious Life is Hard Cider while taking in the crisp fall air and hillside vistas ablaze with color.
Don't forget to stop for a tranquil stroll through the verdant plants, shrubs and trees at The Woodstock Gardens nursery and gift shop. Pick out an assortment of mums for your front porch and check out their landscape art, statues and unique seasonal gifts to grace your own back yard. There you can also have lunch at the Woodstock Garden Cafe and enjoy seasonal fresh food and homemade baked goods.
Shenandoah County in the fall…foliage, festivals, fun…what could be better?