by guest blogger Susan St. Amand
As a 4-H Program Assistant, I spent the summer engaging youth in outdoor activities, making them more conscious of what recreational fun can be found locally in our area.  Shenandoah County is a rural and agricultural area with so many opportunities readily available in our own neighborhood.
Spend time exploring Riverview Park located in Woodstock, VA.  Riverview Park has a Little League baseball field, as well as short trails through the woods and a picnic shelter. During their hikes through the woods, children can explore different trees native to this area and enjoy a glimpse of the Shenandoah River from the top of a hill.
Another great place to explore is the North Fork of the Shenandoah River.  A tributary of the Potomac River, which is 55.6 miles in length, the Shenandoah River has two forks, each approximately 100 miles in length, the North Fork and South Forks, both running through the Shenandoah Valley.  The North Fork of the Shenandoah River runs through Shenandoah County and contains seven bends.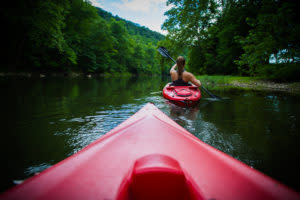 Kayak a portion of the river from the Toms Brook, VA area to Deer Rapids area of Strasburg, VA where there is boat landing access to the river.  This is a great location for beginner kayakers.  It's amazing to see children's confidence grow in ability to maneuver the kayak on their own as they proceed.  Kayaking on the Shenandoah River has grown as a recreational activity during the summer months.
At the Deer Rapids boat landing, there is a high water, swinging pedestrian bridge crossing the river that gives you a birds-eye view of the immediate portion of the Shenandoah River.
Other great opportunities for youth include 
Fort Valley 
Ranch
located in Fort Valley within the beautiful Massanutten Mountain Range, and adjacent to the George Washington National Forest.  Fort Valley Ranch offers a variety of summer camps including a camp through Shenandoah County 4-H where participants learn basic horse care with hands-on grooming techniques, leading, and riding skills.  Once again, camper's confidence and skills grow over the course of a few days in being around these majestic animals.  Youth will enjoy trail riding experiences through the forest.
Fort Valley Ranch has a herd of thirty or so head of horses and mules.   In addition, the facility has cabins and horse stalls for overnight horse camping, restrooms, camp store, and a large covered picnic pavilion for entertaining.   Wagon rides are also an option for non-riders or special occasions.  Reservations for trail riding are also recommended, especially during the summer season.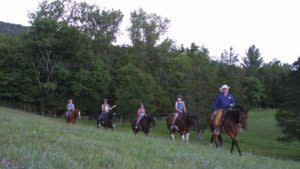 Shenandoah County is also fortunate to have many local community parks along Route 11 from
Strasburg
to
New Market
with
Woodstock
,
Edinburg
and
Mount Jackson 
in-between.  Each of these parks have a playground, swimming pool, and picnic shelters for starters.
The Shenandoah County Park, located in Maurertown, has an 18-hole disc golf game as well as a ball field and tennis court.  Strasburg and Woodstock Town Parks have a soccer field, basketball courts, and tennis courts and Woodstock's W.O. Riley Park offers a newly renovated state of the art playground.  New Market Town Park has a fitness track to help promote a healthy lifestyle.
Another large and popular venue which also engages many youth is the annual Shenandoah County Fair held the week prior to Labor Day weekend.  Being that Shenandoah County is an agricultural area, youth are proud to showcase their livestock projects that they have worked on all year. Vendors exhibit new farming equipment.   Chickens, eggs, and rabbits can be found in the Poultry and Rabbit exhibit building and you can get up close and personal to the livestock in the livestock barns and exhibitors are happy to answer any questions you may have regarding their animals.
Down the mid-way, a variety of food vendors will tempt your palate.  Many of the food vendors are from local restaurants whom are open year-round for catering events such as Shaffer's BBQ, and Rutz's BBQ.  For the sweet tooth, Strites Donuts, and funnel cakes are readily available.  For a cool treat in hot weather, hand-dipped ice cream is available at the Dairy barn.  Many locals return year after year to the Shenandoah County Fair just for the food selections.  The Shenandoah County Fair will celebrated its 100th anniversary in 2017, making it the oldest County Fair in Virginia.
Down the mid-way as well are many opportunities to test your skills with games and take home a large stuffed toy for your favorite person!
For thrill-seekers, opportunities abound with various rides and challenges.  In other exhibit buildings, educational booths provide information for the public.  Craft vendors can also be found selling unique items and every evening, various entertainment such as tractor pulls, demolition derbies, and bands are offered with grandstand seating.
Shenandoah Downs is also situated on the Shenandoah County Fairgrounds and offers daily harness racing during fair week and on the weekends during the fall season.