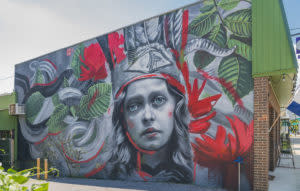 Strasburg
Strasburg is the largest town in Shenandoah County, and it boasts a walkable downtown and access to the Shenandoah River. It's also convenient to both Washington D.C. and the natural beauty of George Washington National Forest and Shenandoah National Park. It's packed with fun things to do for outdoors enthusiasts, history buffs, art, and music lovers, antique hunters, foodies, cyclists, and more. Make plans to enjoy local businesses and restaurants, small-town festivals, museums, historical sites, and colorful street art created by world-renowned muralists. 
Events
Strasburg residents and guests get together for many spirited public events and festivals each year. Spread out your blanket at Strasburg Square for Front Porch Fridays to see local and regional entertainment light up the stage. The annual Father's Day Fish Fry Float teaches families about the environment and highlights kayaking. Mayfest promotes family fun and has live music, rides, food, a kid fun zone, beauty pageants, and more. The Vintage in the Valley Festival celebrates with over 100 vendors selling treasures and crafts, a dance, live demonstrations, a vintage fashion show and car show, activities for kids, and more. Carefest is a cookout for residents to meet local community organizations, and the popular Grilled Cheese + Tomato Soup Festival lets local restaurants dish up their best to an enthusiastic audience.
What to Do/Attractions
The brick building that houses the Strasburg Museum was originally a steam pottery. For over a hundred years, Strasburg was famous for commercial manufacturing of stone and earthenware pottery. Pottery manufacturing slowed down with the invention of glass jars, and in the early 20th century, the building became a railroad depot. Now it's a museum where you can learn about more than 250 years of Shenandoah Valley. Train lovers will be excited about the model of the Southern Railway as it existed in Strasburg in the 1930s. There's also an authentic engine, caboose, and passenger cars to tour. Other exhibits include Native American artifacts, rooms decorated as they would have been in the Colonial and Victorian times, and an old country store.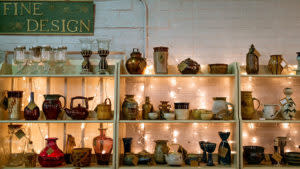 Strasburg is making a name for itself in the street art scene with the Staufferstadt street murals found on ten downtown buildings. These large-scale creations are vibrant and beautiful and promote "the idea that art has the power to transform spaces, inspire the next generation, and engage our community; speaking to its past and future, and challenging the perspectives of those who pass through the area." The modern murals have been created since 2015 by artists like Gilf! Alice Mizrachi, NDA, and Over Under. They were inspired, however, by Sarah Jane Blakeslee's New Deal WPA mural "Apple Orchard," painted in 1938. While you're scoping out the murals, make time to take a selfie at the Strasburg LOVEworks sign, located in Strasburg Square. If you're interested in creating your own art, check out the class schedule at Kay Witt Fine Art studio.
If it's an inside kind of day, kids will also love burning energy at the bounce room at Signal Knob Recreation Center.
What to Do/Outdoor Recreation
For more than 100 years, the Valley Baseball League team has been bringing traditional summer fun with teams up and down the Valley. The Strasburg Express was named the most successful franchise in 20 years. Cheer for them at First Bank Park during the June-August season.
Strasburg River Walk is a .9-mile gravel walk stretching along the river from Strasburg Town Park to Strasburg High School. A favorite of walkers and joggers, the trail is close to a playground and a dedicated off-leash dog park.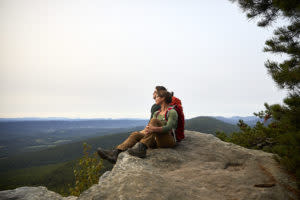 Signal Knob was used as a lookout point during the Civil War. Today, it's a popular 10-mile hike that overlooks Strasburg, Fort Valley, and the Shenandoah Valley. Add a few more miles and views of the Strasburg Reservoir with the Mudhole Mountain addition. Hard-core hikers can attempt to hike all or part of the rugged 65.9-mile Massanutten Trail loop, which heads from Strasburg to New Market and back north through Warren County. The challenging trail includes views of the Shenandoah and Fort Valleys. 
Stop at the visitor's center at Cedar Creek/Belle Grove National Park for exhibits and information about the area's history and people, including Native Americans and enslaved persons. Next, take the 17.5-mile self-guided auto tour of the Battle of Cedar Creek. You'll see where Confederate troops surprised the Union army in 1864 only to be later forced back by General Sheridan's troops. This ultimately ended the Confederate invasion of the North. Hupp's Hill Historical Park educates visitors about the hardships of Valley life during the Civil War. Stretch your legs on the interpretive walking trails exploring the trenches built during the war.
Shopping
Woodbine Farm Market treats the public to fresh-grown goodness like vegetables, ripe fruit, and 25 varieties of apples. The market also offers baked goods, honey, maple syrup, preserves, wine, cheese, and meat from local producers. If you'd rather grow your own veggies, Pot Town Organics can set you up with the tools and advice you need to get your garden growing. Season all that bounty with spice blends from Shenandoah Spice Company, and cook it up with the help of cookware from Dryad Cookery. For a special treat that looks and tastes beautiful, order some artisan truffles or a bouquet of cake pops from R&E Fine Chocolates.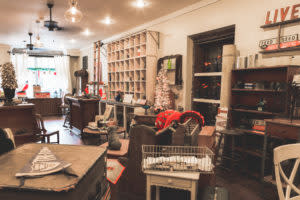 If you missed the Route 11 Yard Crawl this year, you can still find antique and vintage treasures in Strasburg. Try Massanutten Street Gallery or Vilnius Antiques for quality antiques and fine furniture. More than 60 vendors have set up booths in the Strasburg Emporium, so there's sure to be something for everyone. Likewise, King Street Flea Market has more than 20 vendors and specializes in collectibles, jewelry, stoneware, furniture, and antique toys. Visitors to the Strasburg Flea Market can buy and sell record albums, comics, coins, antiques, and more. Like to dress sustainably? Clementine Vintage deals in fine home decor, jewelry, furniture, and gifts like soy candles, canned goods, and greeting cards. Lydia's Clothes Closet sells gently-used clothing for the entire family as well as jewelry and accessories. 
Where to Eat
There's lots to eat in Strasburg, including farm-to-table cuisine, diner fare, a winery, a brewery, and fast food. Queen Street Diner opens early for breakfast and serves build-your-own-omelets, big, meaty platters, and breakfast sandwiches as well as lunch and dinner. The owners of Strasburg's newest eatery, Blue Wing Frog believe that food should be real food, so they make everything from the basics with love, care, and no shortcuts.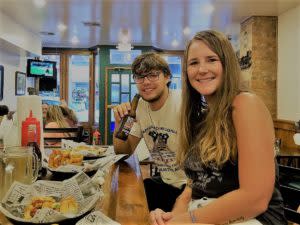 Craving fresh seafood like crab cakes and snow crab legs? Crabby Maggie's offers a wide selection at fair prices and includes delicious sides of hush puppies and cole slaw. And if you're hungry for chicken, Old Dominion Doggery and Burger Shoppe knocks your favorite summer fare out of the park with its juicy all-beef dogs and burgers topped with an extensive range of classic and adventurous toppings.
The Box Office Brewery taproom is located in Shenandoah County's first theater, built-in 1918. Enjoy the historic vibes over local wine, cider, and a dozen refreshing craft beers on tap. Food includes appetizers, brick oven pizza, sandwiches, and burgers. Star in the Valley Estate Winery produces small-batch wines with flavors unique to the Shenandoah Valley. Enjoy the wine by glass, bottle, or flight in the tasting room or at home under the stars.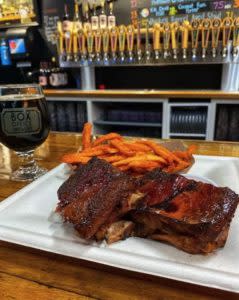 Where to Stay
The Dome at Our Farm is perfect for glampers wanting to relax in style with screened windows, a fan, solar-powered lights, and a queen bed. Enjoy the bay window with views of Little North Mountain and surrounding farmland. Finally, the historic 1761 Holliday and King getaway house has room for a group and is steps away from dining and shopping. The house is pet-friendly, and there's even a big porch for relaxing.
Strasburg is also home to a Fairfield Inn & Suites by Marriott, where you can enjoy an indoor heated pool and hot breakfast. The nearby Ramada by Wyndham has an onsite restaurant and bar and is pet-friendly.