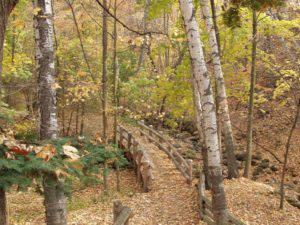 The Shenandoah Valley is known for its spectacular display of fall foliage and Shenandoah County is no exception.  Home to 178 miles of trails making their way through lush National Forest, hiking is one of the best ways to experience the spectacular colors with views of the Shenandoah River and the valley below.    Below are a few of our favorite fall hikes to enjoy the splendor of the Valley ablaze with shades of red, orange and yellow.
Buzzard Rock-  Buzzard Rock is a relatively easy 4 mile hike offering spectacular vistas from the namesake, Buzzard Rock.  Located just east of Fort Valley, this trail offers southern views through Fort Valley and a great vantage point of the nearby fish hatchery.  There are also views towards the north towards Winchester and east towards Front Royal.
Signal Knob- Signal Knob is a longer and more difficult  5 mile loop that can be steep and rocky in places but the unobstructed views at over 2000 feet above sea level looking north, east, and west are well worth it.  Visitors will quickly discover why this point was used as an observation and signal point for Confederate officers to plan their surprise attack on Union troops during the Civil War at the Battle of Cedar Creek.
Big Schloss- This trail often tops our list of best hikes in the Shenandoah Valley for its unique vantage point of the Valley from rock outcrops along the Virginia, West Virginia border and fall is no exception.    Although the first quarter mile is steep, the trail levels out and continues along flat rocks just over a wooden bridge.  No hiking lover's trip to the Valley is complete without a visit to Big Schloss.
Massanutten Story Book Trail- This easy, paved, handicap accessible trail is less than a half a mile but offers spectacular views looking east into Page Valley and south towards Rockingham County.    Perfect for families with small children looking to stretch their legs and experience nature.
Veach Gap- Veach Gap is a more secluded and relatively easy hike with a gradual ascent through Veach Gap offering a beautiful overlook at the trail's high point.  Early risers can take in great views from the third overlook of the sunrise over Shenandoah National Park.