Wherever a day of adventure in Shenandoah County takes you, kayaking down the Shenandoah River or up a killer summit route, there's really only one place to wind down—a local watering hole.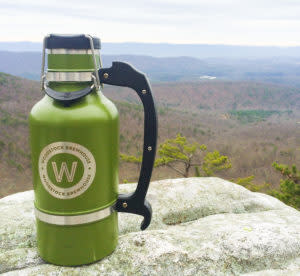 Fortunately, the region is brimming with friendly taprooms, breweries, and sunny patios that offer the ideal place to relax and recharge. After all, what better way to relive the day's wildlife sightings, trail overlooks, and padding adventures than over a pint or two?
With the craft-beer boom exploding in recent years, it's never been easier to find a post-adventure spot to quench your thirst near one of the Shenandoah Valley's spectacular trails and rivers. Take your pick from our guide to some of the top adventure and tasting room combos in the region, and the next thing you know you'll be toasting to the day's fun—and planning your next outing.
1. Tibbet Knob/Woodstock Brewhouse
A short but steep climb to one of the best views in Shenandoah Valley awaits you at Tibbet Knob. This out-and-back trail climbs just over two miles, including two short and challenging rock scrambles, to a peak that seldom sees the crowds found on some of the other trails in the area. Hike back down to the trailhead at Wolf Gap Campground to extend your distance another four miles on Big Schloss, or call it a day and head to Woodstock Brewhouse for your post-trail refreshments.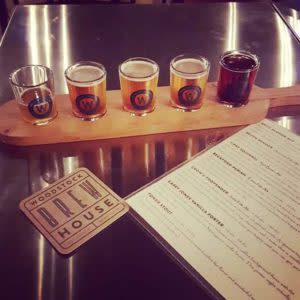 Woodstock's first microbrewery operates out of a former denim factory in the historic downtown. Woodstock Brewhouse features a 12-tap bar with eight flagship beers that run the gamut from the creamy North Fork Golden Ale to the robust coffee and vanilla-infused Casey Jones Porter. Seasonals like the popular Marzen Oktoberfest lager, lighter session ales, and local wines from Muse and Cave Ridge Vineyards round out the beverage lineup. There's live music on Thursdays and holiday weekends, with an expanded food menu featuring local favorites like fish tacos, grown-up mac n cheese and mango-habanero wings.
2. North Mountain/Ridge Runner Farms & Brewing Company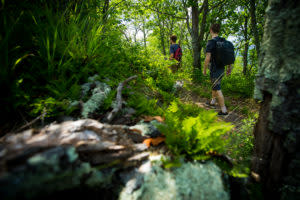 North Mountain's 12-mile ridgeline trail travels along the Virginia/West Virginia border. Panoramic views of the valley expand below as the trail twists its way along a forested spine of rock that never reaches a formal summit. Extend your trip by combining the North Mountain Trail with the Massanutten Trail on the other side of the valley and others in the area for an epic, multi-day backpacking loop known as Virginia's Triple Crown.
In the valley below, Ridge Runner Farmstay and Taphouse selects microbrews and hard ciders from around the region and offers a good selection for every taste Grab a chair on the covered deck to enjoy a pint along with handcrafted, grilled sandwiches made with seasonal, local produce and meats from the neighboring Farms. Goldfinch Catering Company just down the road offers a gourmet experience like no other, using only the freshest ingredients and a creative touch to their ever-changing menu. There's local music on Saturdays and a hot tea bar for non-beer drinkers. If you plan ahead, you can even book your stay there for an all-around comfort experience after a long day of hiking.
3. North Fork of the Shenandoah River/Swover Creek Farm Brewery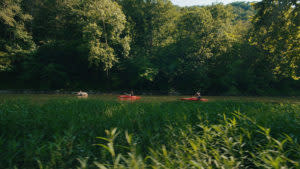 Paddle the North Fork of the Shenandoah River for an easy and relaxing float trip with just a few Class I ripples along the way. Put in at the historic Meems Bottom Covered Bridge to paddle past black Angus cattle grazing below a scenic mountain backdrop. You'll cover seven miles by the time you reach your takeout at Red Banks Road. A consistent current makes for a family-friendly, low exertion float with no dams, rock ledges, or river shoals to slow you down. Put in at Red Banks Road to paddle the seven miles, with a few more Class I-II rapids between you and the take out in Edinburg. Both trips take about three hours, with plenty of opportunity to enjoy the deer, bald eagles, great blue heron, and numerous turtle species you'll see along the way.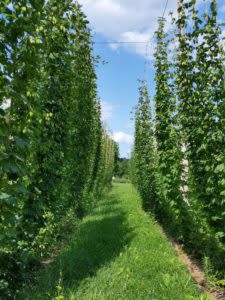 On a property owned and operated by the same family for more than 100 years, Swover Creek Farm Brewery is a pick-your-own berry farm, market, and brewery, all rolled into one. It even features a dog park and an 18 hole disc golf course. Grab a pint and relax on an Adirondack chair to take in the views across the surrounding pastures. Wood-fired pizza and nine varieties of fresh sausage on pretzel rolls pair nicely with the brewery's flagship Dirty Blonde, Red Clay, and Nitro Oatmeal Porter. Homegrown berries and hops are blended for a rotating list of seasonal shandies. For something truly unique, drop by for the guinea pig races, which are run on the same days as horse racing's Triple Crown.
4. Signal Knob/Box Office Brewery
The rocky trek to 2,106-foot Signal Knob pays off with views to Strasburg on a clear day. You'll love the solitude that makes deer and black bear sightings a real possibility on this uncrowded trail. This 10-mile loop through the George Washington National Forest climbs to views of Fort Valley at Buzzards Rock, with a few shallow creek crossings along the way. The ridgeline vistas make it easy to understand why the spot served as a lookout for both the North and South during the Civil War.
Reward yourself at the end of your hike with a pint at Box Office Brewery located in a former theatre in the heart of historic downtown Strasburg, Box Office has ample seating perfect for large groups or just pull up a seat at the bar if traveling on your own.  They offer a great variety of beers on tap ranging from regular favorites like the Prohibition Pilsner and Goldie Blonde to more creative offerings such as their Coconut Rum Porter. Feeling Hungry? Box Office also offers an extensive menu with great burgers and sandwiches, appetizer and brick-oven pizza.