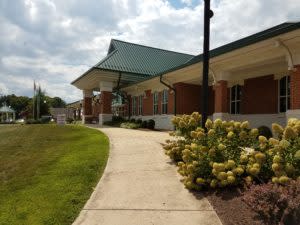 Mount Jackson is immediately recognizable for those driving along the I-81 corridor because of the tall water tower painted with a giant basket of apples. This landmark deserves to be photographed, but there's a lot more to catch your interest when exploring the town, which has a history of being a regional commercial and railroad hub. Added to the National Register of Historic Places in 1993, Mount Jackson boasts well-preserved examples of early American architecture. You'll find homes, businesses, and churches constructed in the style of Gothic, Victorian, Colonial Revival and more. A drive into the country will offer vistas of the beautiful Shenandoah River and the historic Meems Bottom covered bridge as well as opportunities to embrace Civil War history. Visitors will find lots of adventure in a tour of Shenandoah Caverns and will get to learn all about the history of parade floats at American Celebration on Parade. Plus, Mount Jackson provides easy access to all the hiking, biking, paddling, and fresh air the Shenandoah Valley is known for. Don't let another year go by without discovering this gem of a town!
Attractions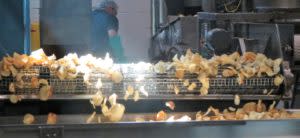 One of the local highlights is the Route 11 Potato Chip factory. Visitors can watch the entire chip-creation process from the "fry-viewing" windows in the retail room. Staff can answer all your questions about "the potatoes, the process, and the daily realities of chipland." You'll score a taste of local, kettle cooked goodness and get to purchase chips directly, so you know they're as fresh as can be.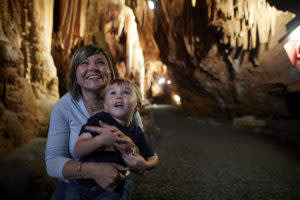 Shenandoah Caverns provides fun for the entire family. Not only can you venture underground for a guided tour and learn once and for all the difference between a stalactite and a stalagmite, but you can search for treasure at the Gemstone Mining Sluice, and work off energy on the playground. History lovers can explore Main Street of Yesteryear, an exhibit of "animated department store window displays dating back to the 1940s and 50s." The creative displays give great insight into how products were advertised in the past. You don't want to miss American Celebration on Parade, a seasonal display with 20 actual parade floats from important celebrations like presidential inaugurations, Rose Bowl parades, Thanksgiving parades, and more. Get up close and personal, learn about how the floats were created, and pose by your favorites for photos. Finally, The Yellow Barn houses cool antique carriages and farm equipment.
The Mount Jackson Visitors Center and the on-site Mount Jackson Museum are a good destination for those hoping to learn about local attractions and history. Staffed with knowledgeable volunteers, the museum boasts photographs, documents, furniture and more from an "impressive collection of relics from Mount Jackson's days gone by."
Mount Jackson Union Church dates to 1825 and is a Virginia Historic Landmark. Open by appointment, the little red church is rumored to have been used as a hospital during the Civil War after wounded soldiers were brought into town on the railroad. The surrounding cemetery is the final resting place of many important figures in town history. Other nearby sites with historical interest are Our Soldiers Cemetery and Quicksburg's Corhaven Graveyard.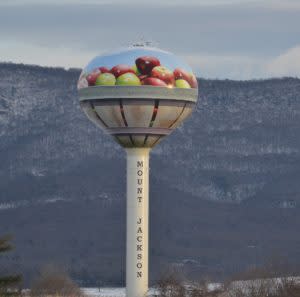 Mount Jackson's Apple Basket Water Tower rises 150 feet above I-81. The design features a basket of red Gala apples to celebrate the area's identity. It was painted freehand from a 155-foot lift by Ohio mural artist Eric Henn, known for 30 years of murals all across the country.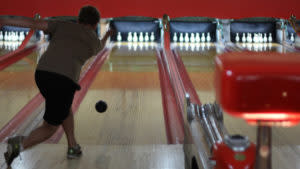 Get ready to have fun bowling duckpins at Shenandoah Bowling Lanes. Duckpin bowling uses smaller balls than regular bowling, and bowlers get three rolls per frame. Even so, nobody has ever scored a certified 300 in a game of duckpin. Perhaps you'll be the first! The lanes are family-friendly during the day and grown-ups-only after 9 p.m., and feature energetic music, atmospheric lighting, and tasty food. 
Outdoor recreation
Downtown visitors should stretch their legs at Mount Jackson Park. You'll find a paved walking loop, a playground featuring a zip-line, basketball courts, and the town pool.
Start your biking adventure in Mount Jackson. You'll find scenic country roads to explore around the town. Snap photographs of the beautiful mountain views and of the Meems Bottom Bridge, one of the last covered bridges in Virginia. Refresh yourself with a glass of wine at one of several local vineyards located just a few miles out of town.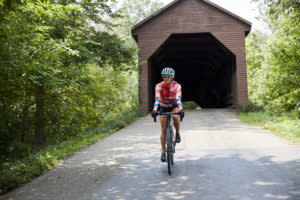 Access the Shenandoah River for paddling and fishing at Meems Bottom Bridge, just south of Mount Jackson. There's convenient parking and it's a 10-mile float from here to Swan Road in Edinburg. There's a second public river access point just north of Mount Jackson at Route 698 and Red Banks Road. There's no boat ramp here, but you can carry in a craft to launch it.
Hiking and mountain biking trails are plentiful in the nearby George Washington National Forest. Popular destinations include the 12.5-mile Kerns Mountain Loop, a challenging hike that passes both Duncan and Strickler Knobs. Duncan Knob offers flexibility for hikers who want to tackle different distances. There's a 3.6, 8.5, and 13-mile options. You'll find views of the Massanutten Range and the Shenandoah Valley, rock scrambles, and good camp sites.
Shopping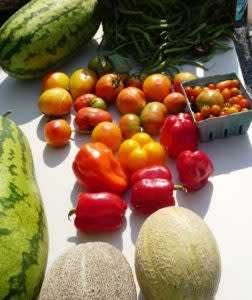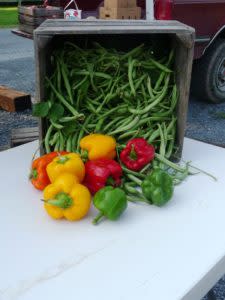 The Town of Mount Jackson and the Mount Jackson Hometown Partnership host a seasonal Farmer's Market each Saturday. You'll find fresh fruits and veggies, eggs, cut flowers, honey, baked goods, and more. Paugh's Orchard is open seasonally Sunday-Friday and sells apples and other local, in-season fruits and vegetables. 
Baker Farms has sold fresh farm-to-table pork for 45 years. They ensure the highest quality meat with their "birth-to-table" approach which values the hogs' happiness by providing home-grown food sources, access to the outdoors, and the ability to breed naturally. Shop for breakfast meats, sausage, ribs, ground pork, loins, and more. Family-owned Sycamore Banks Farm raises broiler chickens, cattle, and fresh produce. Stop by in the fall for seasonal horse-drawn wagon rides and a pumpkin patch.
Bring your house to life with something new to you! Mt. Jackson Thrift and Gift has a good selection of collectibles, used and antique furniture, country primitives, antique signs, and more. Since 1977, the Search Thrift Shop has sold quality donated wares like housewares, furniture, and clothing. The profits support a group home for intellectually challenged citizens. Doing home repairs? Shop at locally owned Randy's Hardware for all your home improvement project needs.
Events
Mount Jackson hosts an annual tree lighting with music by local singers and the high school band as well as a visit from Santa. There's also an annual Apple Harvest Festival, Midnight in Mount Jackson. If you're in town during the summer, spread out your blanket in Mayor's Park for a concert in the Second Sunday music series.
Where to Eat
Bartolo's Mexican Bar and Restaurant has an extensive menu of all your Mexican favorites and include affordable kids' menus and cocktail menus showcasing tasty margaritas. If you're seeking Chinese cuisine, China King prides itself on quick service and tasty, generous portions.
You might find yourself filling up with delicious appetizers like pizza fries, clam strips, and broccoli bites from the Italian Touch menu, but we advise that you save at least a little room for the pizza, subs, pasta, and salad main-course items. Try a garlic chicken pizza, a cheddar cheese steak, a gyro, or a grilled veggie wrap.
Continue your exploration of all things Americana at Shenandoah Caverns' Caverns Café. This retro-style soda fountain serves burgers, cut fries, salads, sandwiches, fountain sodas, and shakes. 
After fueling up flower up at the new Vase and Vine Florist and Gift Shop located in a renovated cottage style building that was the original site of a 1930's Pure Oil Gas station that has been completely renovated by the local Holtzman Family.
Sample local Shenandoah Valley wine at one of the three tasting rooms near Mount Jackson. The comfortable tasting room at the Winery at Kindred Pointe sells glass of site-made wine, cider, sangria, and hot mulled wine. Cave Ridge Vineyard and Winery won the 2021 Virginia Governor's Cup Gold Medal and more for its excellent wines. Visit for a tasting and lite fare like charcuterie boxes, hummus and chips, and olives and cheese. Third Hill Winery creates delicious wines and a pleasant place to drink them. Check the summer schedule for live music at the pavilion.
Where to Stay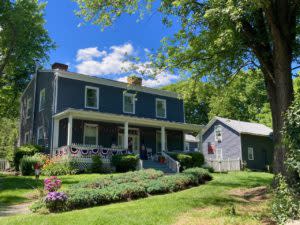 Family Farmhouse Inn has served Mount Jackson's weary travelers for 50 years. The inn's rooms are in different restored buildings on the 1830s homestead and promise both historic charm and modern comfort. Each bedroom has a mini fridge and a microwave as well as a full bathroom. Outside, guests will find seven private acres to explore, outdoor games, a fire pit, hammocks, a performance stage, and swings for the kids.
Family-owned Shenandoah Valley Campground opened in 2013 and offers the experience of camping as well as modern amenities like a camp store, sites with water, electric, and sewer, deluxe cabins, bath houses, free Wi-Fi, a ½ court basketball area, mini golf, a dog run, and much more.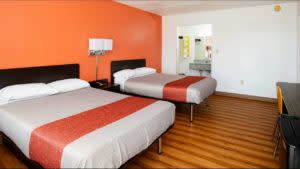 The newly renovated Motel 6 offers expected amenities like comfortable beds and free Wi-Fi. The motel is smoke free, pet friendly, has an outdoor pool, and offers free RV, Bus and Truck parking.