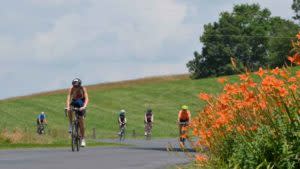 Sandwiched between the Blue Ridge and Appalachian mountains just west of the Shenandoah National Park, Virginia's Shenandoah County offers an abundance of adventures for outdoor lovers. Nearly a quarter of Shenandoah County is covered by the George Washington National Forest, and much of the rest is countryside, covered in farms and vineyards that are connected by back roads steeped in Civil War history. The North Fork of the Shenandoah River also runs through the county, snaking into a striking series of horseshoe curves along the base of the Blue Ridge.
There are plenty of adventures awaiting outdoor lovers in Shenandoah County, but here are 10 that will have you falling in love with nature all over again.
1. Trails, Trails, Trails!
Hikers, backpackers, and runners will appreciate the 178 miles of trails lacing the massive portion of the George Washington National Forest covering Shenandoah County. There's enough diversity to delight everyone from day-trippers to distance hikers—and best of all, on idyllic weekends, when visitors clog popular routes in the Shenandoah National Park, there is far less trail traffic in the George Washington National Forest.
A great short-and-sweet trip is the one-third mile round trip Woodstock Tower hike, featuring views that stretch all the way to the Allegheny Mountains in West Virginia, courtesy of the iconic observation tower built by the Civilian Conservation Corps in 1935. The Woodstock Tower also offers the perfect vantage point to view the iconic "seven bends" of the Shenandoah River. There are also more challenging treks, like the four-mile climb to Big Schloss, a lofty rock outcropping named by German immigrants with stunning vistas of Long Mountain, Trout Run Valley, and Tibbet Knob. The view of the valley is especially gorgeous in the fall.
2. Angling Adventures
Looking to cast a line in serene solitude? With 31 miles of trout streams flowing through the George Washington National Forest, anglers have quite a few options. Passage Creek remains a regional stronghold for native brook trout and has been designated as one of Virginia's Trout Heritage Waters.
The North Fork of the Shenandoah River, on the other hand, is known for its clusters of smallmouth bass, which congregate under the bedrock ledges in the 'Seven Bends' area. The wide, shallow waterway has plenty of public access points, ideal for anglers looking for wade-in options.
Murray's Fly Shop in Edinburg can provide both gear and guides for angling trips.
3. World-class Mountain Biking
Shenandoah County is one of Virginia's premier destinations for spectacularly rugged stretches of singletrack—with gems like the Big Schloss area of North Mountain and the Signal Knob area of Massanutten Mountain. The monumental 480-mile Virginia Mountain Bike Trail, which traces the high ridges of the Blue Ridge and Allegheny mountains, also weaves through Shenandoah County providing potential for extended bikepacking forays.
Besides wilderness rides, Shenandoah County is also home to the Bryce Bike Park. Developed in conjunction with Gravity Logic, 402 Trails, and Trek Bicycles, the park features eight lift-accessible trails, with progressively challenging routes for riders of all skill levels, including expert tracks like Pickleback and Copperhead.
4. River Runs
For paddlers, there is plenty to explore in Shenandoah County, including one of the most striking stretches of water in Virginia—the North Fork of the Shenandoah River. In Shenandoah County, the waterway traces the contours of the Blue Ridge Mountains, ribboning into a series of dramatic folds known aptly as the 'Seven Bends'.
An easy way to float down the river is to bring your tubes the Hollingsworth entrance of Seven Bends State Park and float a full bend of the river (about 1.5 miles) until you reach the other side of the State Park at Lupton Road.
5. Crowd-free Campsites
While weekend warriors from the Washington, DC area regularly rush to stake their tents at the perennially popular campgrounds in the Shenandoah National Park, sites in the George Washington National Forest are often less crowded, which means more solitude. Seek out a spot under the stars at the family campground in the Elizabeth Furnace Recreation Area, with access to the trout-stocked Passage Creek, or head for the campground at the Wolf Gap Recreation Area, the starting point for the hike to Big Schloss. For waterfront digs, the family-run Creekside Campground in Edinburg offers serene sites along Stoney Creek.
6. OHV and ATV Trails 
If you're looking for Off-highway thrills with plenty of mud and fun, the Peters Mill Run/Taskers Gap OHV System, nestled within the Lee Ranger District of the George Washington National Forest trails complex, is hailed as one of Virginia's premier off-roading destinations, with 36 miles of off-roading fun suitable for drivers of all skill levels.
7. Countryside Cycling Trips
Shenandoah County isn't just a hub for singletrack seekers, there is also plenty to entice road riders. The county's byways wind past award-winning vineyards, horse farms, and Civil War sites, connecting uniquely charming towns. Route 11, one of Shenandoah County's most spectacular roadways, also has a rich history. Known as the Valley Pike, the route was once a corridor for Native Americans hunting parties, and then for westbound settlers, becoming a bustling commercial road in the early 19th century that linked northern cities with points south and west. It is a perfect connector to take you to good places to eat and shop for provisions as you bike through some of the lesser travelled country roads.
8. Ski Season
In Shenandoah County, winter is just as enticing. Hit the slopes at Bryce Resort and explore the eight downhill runs on the resort's 1,750-foot ski mountain. Not a skier or a snowboarder? Head for Bryce's snow tubing area, which dishes up plenty of gravity-induced thrills with 800-foot long, snow-forged flumes.
9. Equine Excursions
You can also take a trip through the George Washington National Forest on horseback. Fort Valley Ranch, just minutes from the Elizabeth Furnace Recreation Area, can organize guided rides in the national forest if you don't have a horse of your own. Also in Fort Valley, Secret Passage Ranch has 850 acres to explore, provides customized riding lessons, and even offers carriage rides showcasing the mountain-cradled valley's stunning scenery.
10. Après-Adventure Perks
After a run, hike, paddle, or ride, explore Shenandoah County's taste-driven trails. Virginia has rightfully garnered a spot as one of the nation's top wine producers, and Shenandoah County has an eclectic smattering of eight award-winning vineyards throughout the county.
Shifting gears, Shenandoah County is also home to gems like the Swover Creek Farm Brewery, complete with its own dog park and 18-hole disc golf course; the Woodstock Brewhouse, which is housed in a renovated clothing factory, and Box Office Brewery which was built in a 1918 theatre building.
Whether it's a weekend trip or a weeklong trip, there's no shortage of things to do outside in Shenandoah County. From the blooming wildflowers in the spring to the burst of colors in the fall, there's always something different to see, and there's never a bad time to visit. But don't take our word for it—come see for yourself!
Originally written by RootsRated for Shenandoah County, VA.