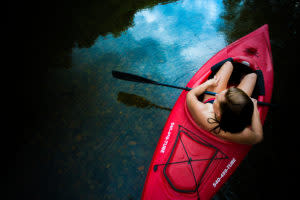 Ready to emerge from winter-induced hibernation and embrace the spring thaw? Looking for a place to celebrate the warmer temperatures and savor every extra minute of daylight? Just 80 miles southwest of Washington, DC, Virginia's Shenandoah County makes a sweet spring retreat. Cradled by the Blue Ridge and the Appalachian Mountains, nearly a quarter of Shenandoah County is covered by the George Washington National Forest, and the rest is peppered with award-winning wineries, rolling hills of farmland, history-laden Civil War battlefields, and charming towns.
We've put together a list of the top 10 reasons to escape the city and celebrate the seasonal transition with a spring fling in Shenandoah County.
1. Spring Hikes
Summer hikes in Virginia can get buggy and muggy, so hit the trail during that precious seasonal sweet spot. Shenandoah County has more than 178 miles of a trails to choose from—with everything from gritty grinds to the top of 3,860-Duncan Knob, one of Massanutten's wind-whipped high ridges, to a family-friendly loop around Lake Laura, to short strolls like the historic ⅓ mile Woodstock Tower hike, rewarding climbers with sweeping vistas stretching all the way to the Alleghenies in West Virginia and a bird's eye view of the Seven Bends of the Shenandoah River.
2. Romantic Retreats
Ready for a memorable escape after a winter cooped up at home? Ditch your to-do list for the weekend and settle into a cozy retreat like the Family Farmhouse Inn, or the similarly historic Inn at Narrow Passage along the North Fork of the Shenandoah River.
Rather snuggle up under a canvas of sparkling stars? Set up your adventure basecamp at a campsite in the George Washington National Forest. The streamside Elizabeth Furnace Recreation Area provides easy access to the fishable waters of Passage Creek, and the Wolf Gap Campground, once the location of an African American Civilian Conservation Corps camp, is the perfect spot to access to routes like the Mill Mountain and Tibbet Knob Trails.
3. Savory Seasonal Brews
Forgo the heavy, spirit-fortifying beers of winter and celebrate the new round of seasonal brews at the Woodstock Brewhouse, one of three breweries in the area. Sample spring favorites like the Paysan Saison, a Belgian-style brew with earthy floral notes and a hint of coriander. Stick around the Woodstock Brewhouse for the nightlife, too—the place features a live music line-up on most Thursday nights.
4. Celebrate Cycling in Short Sleeves
Cast off the constricting winter layers and get an early start on that summer farmer's tan in one of Virginia premier bicycling destinations. If you're looking for singletrack, there's plenty in the George Washington National Forest, including access to the 480-mile Virginia Mountain Bike Trail, a network of regional trails and Forest Service Road. Beyond the forest, there's the bike park at Bryce Resort, with series of eight, progressively-challenging, lift-accessible singletrack trails.
Rather ride the road instead? Shenandoah County is loaded with traffic-scarce byways, treating cyclists to a buffet of bucolic scenery, including vineyards, sprawling farms, and Civil War battlefields.
5. Bountiful Blooms
Petal peepers rejoice! In Virginia, the spring thaw also means the arrival of wildflowers, transforming the Shenandoah Valley into a colorful canvas punctuated with blooming bouquets. Look for early seasonal arrivals like hepatica, bloodroot, large-flowered trillium, violets, pink lady's slippers, and wild geraniums. Keep an eye out for the blooming redbud trees along the Interstate and back country roads that rival the fall foliage of the Shenandoah Valley. But the most spectacular way to see the area's stunning spring color is with a hot air balloon ride. Valley Ballooning in Edinburg can organize flights in any season.
6. The Arrival of Outdoor Sipping Season
Virginia has earned its place as one of the nation's top wine producers, and the Shenandoah Valley in particular has emerged as one of the state's premier viticultural regions. Savor the arrival of patio-worthy weather with a tasting at one of Shenandoah County's eight award-winning wineries. Options in Shenandoah County include vineyards like Wolf Gap Vineyard, Star in the Valley Estate Winery, Muse Vineyards, and North Mountain Vineyard and Winery.
7. Dog's Day Out
Surely, your precious pooch is suffering from cabin fever this winter just like the rest of us, so head out to a run or hike in George Washington National Forest to burn off some energy. Covering nearly a quarter of Shenandoah County, the forest has trail options for everyone, but note that your dog must be on a six-foot leash at all times. High-energy hounds will love bounding up the Massanutten Trail to the 2,106-foot Signal Knob, though make sure you get in a couple warm-up hikes before tackling that one. Post-adventure, take your four-legged best friend to happy hour at the Swover Creek Farm Brewery, featuring both an outdoor beer garden and a fenced dog park for well-behaved pups.
8. A River Runs Through It
It may not be swimming hole season yet, but in Shenandoah County, you can still hit the North Fork of the Shenandoah River in the spring. Sluicing along the eastern edge of the county, the usually sluggish river is prime for exploring by kayak or canoe beginning in April.
Rather cast a line instead? Shenandoah County is also home to more than 31 miles of trout streams. Passage Creek is just one of the Virginia waterways stocked with fish in anticipation of Trout Heritage Day, falling on April 1 in 2017. New to fishing? Take a class with Murray's Fly Shop and learn the ins and outs from an expert.
9. Wildlife Watching
In Virginia, humans aren't the only ones casting off the throes of winter with the arrival spring. The seasonal change also marks the arrival or a motley crowd of seasonal avian migrants. The array of neo-tropical songbirds includes rarities likes cerulean warblers, marking for a bounty of birding. In Shenandoah County, the Strasburg Town Park and River Walk is one the region's premier birding trails, offering the chance to see an assortment of species—from Blue Herons to warblers and kingfishers by the water to birds of prey scouring the nearly pastures.
10. Savor the Seasonal Harvest
Please your palate and savor the seasonal bounty of the 'breadbasket of the Confederacy'. Spring is the brink of berry season in Virginia, and in Shenandoah County, there are plenty of other fresh flavors to explore—including regionally sourced meat, dairy, produce, and artisanal goodies like local honey and maple syrup. Peruse the offerings at Mowery Orchard in Woodstock, Woodbine Farm Market in Strasburg or Jon Henry General Store in New Market.
In less than two hours, you can get away from the beltway and cruise along Shenandoah County's peaceful byways. You can go from being surrounded by buildings and people to mountains and vineyards. Even if it's just for a weekend, immersing yourself in nature will have you feeling happier and more relaxed in no time. And who couldn't use a little more of that in their lives?
Originally written by RootsRated for Shenandoah County, VA.