by Keryn Means 
Planning a field trip to Shenandoah County is much easier than you think. Students from elementary school through high school will have a great time exploring through day trips that are just a short drive from Washington, D.C. Learning experiences connect to what children are studying in social studies, United States history courses, English class and beyond. 
Take advantage of one of the most beautiful areas of the Shenandoah Valley with our field trip ideas that teach kids about Civil War history, geology, the importance of local farms, astronomy and more. 
Get up close with nature along the Shenandoah River
Students will love diving into the natural world around them when they participate in one of the Friends of the North Fork workshops, run in conjunction with Shenandoah County Parks and Recreation. Past workshops have included the Shenandoah Nature Rangers- After School Program, Build a Bird or Wildlife House workshop and making natural dyes out of plants. 
At Home activities are also available for the entire family to do together. From "What is a Watershed?" to "River Wildlife Investigations," the Friends of the North Fork have a variety of ways for children to connect with nature this year. Check their website for the latest list of workshops and at home activities.
Connect to Early Shenandoah County History
Plan a field trip to the Shenandoah Valley Cultural Heritage Museum at the Edinburg Mill. History comes alive with a recreation of the mill, fabric woven on the wooden loom, artifacts, tools and equipment, along with Civil War history and a documentary to enjoy. The museum also explores the nation's first Civilian Conservation Camp, American Red Cross activities in Shenandoah County, fashion through the ages and even how to make apple butter. 
Black History in Shenandoah County
Corhaven Graveyard might not seem like a place to take students on a field trip, being a graveyard and all, but the historical significance of this burial site of enslaved Blacks can not be forgotten or ignored. Believed to be the burial site of at least 24 slaves at a plantation in Holman's Creek, members of the community have been cleaning up the site since 2014, documenting the fieldstones and grave markers on the wooded knoll, as well as researching those who might have lived in the area at the time in an effort to pay respect to those who were buried here. 
Students and educators are welcome to visit the Graveyard, giving a ring to the old school bell from a former schoolhouse. Now, with each toll visitors honors those who lived and worked without recognition on the plantation. The public is welcome to join the caretakers on Community workdays but must sign up and sign a liability waiver. Contact Sarah Kohrs at CorhavenGraveyard@inthecoracle.org or 434-922-2029 for more information. 
If you are visiting the Virginia Museum of the Civil War, where you can learn about the Black history in the Shenandoah Valley, you definitely want to make a stop at Corhaven too. 
Connecting the history of the Revolutionary War to Civil War
Many local school children may know that Shenandoah County was established in 1772. Originally named Dunmore County for Virginia's last royal governor John Murray, 4th Earl of Dunmore, it was renamed Shenandoah in 1778 after Dunmore was ousted during the Revolutionary War. The Woodstock Museum, located in Woodstock, VA, shares the area's early Native American and Revolutionary War history through the two colonial homes (the Marshall House & the Wickham House) that make up the museum, housing artifacts from the early days of Virginia for children to learn from and explore. 
The old Shenandoah County Historic Courthouse, which found a permanent home in 1795 after being housed in a private residence during Dunmore's governorship, is home to a museum and visitor's center, as well as the Shenandoah County Historical Society. It is also just a block away from the Woodstock Museum, making it easy to explore both historical sites, as well as transition your students from the Revolutionary War in Shenandoah County into the Civil War. 
The courthouse is the oldest courthouse in continuous use west of the Blue Ridge Mountains and still tells the stories of battles fought and won in the region. Civil War soldiers from the Union and the Confederate army moved through the area, each adding graffitti to the interior walls, which you can still see today. It's these little artifacts and moments that cement history into a child's mind, especially if they just don't want to read facts out of a book all day. 
Parents and teachers should contact the historical society for special visit times and more educational opportunities through the historic buildings in Shenandoah County. 
Retrace Civil War History in Shenandoah County
History comes alive for students when they actually see where history happened. Plan a visit to the Virginia Museum of the Civil War. Walk the 300-acre battlefield park trails, and visit the museum to learn about Virginia's part in the Civil War. There are several educational tours available for grades K-12. 
Grade school students who are reading or have read The Ghost Cadet by Elaine Marie Alphin, the tale of a student who meets cadet William Hugh McDowell who died at the Battle of New Market, should definitely plan a visit to this historic battlefield and museum. Participate in a scavenger hunt, learn basic soldier drills and marching techniques, and learn about the basic needs of a soldier in the late 1800s. Get all of the information HERE to book your field trip. 
Learn Where Your Food Comes from with a Farm Tour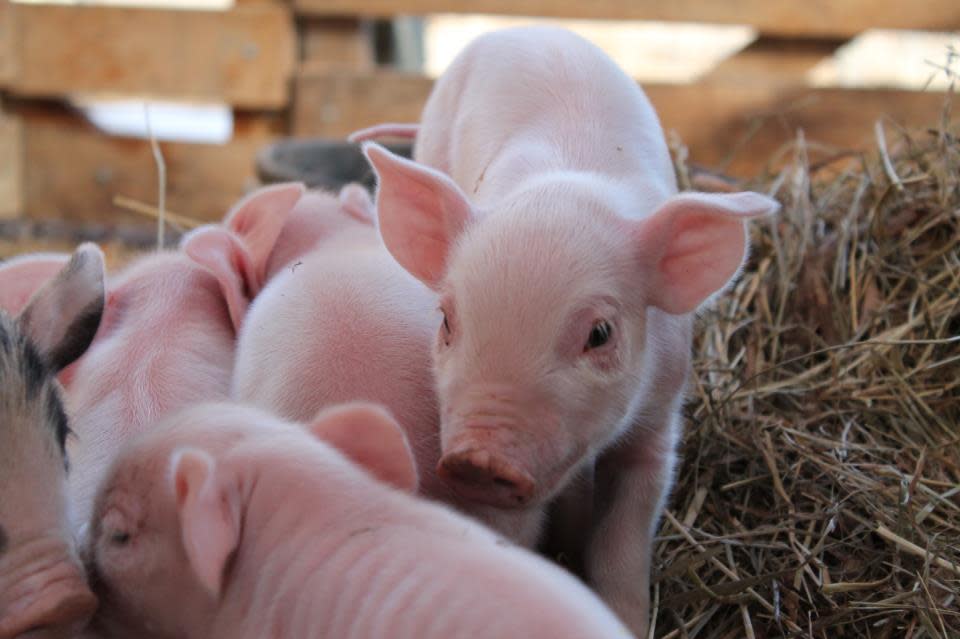 A trip to the farm is always exciting when you get to pick your own produce and/or meet the resident animals. From cows, chickens and pigs, blueberries, strawberries and pumpkins, you won't want to miss touring one of the farms in Shenandoah County. Here are just a few of our favorites: 
J&L Green Farm

offers Homeschool Tour Days at least twice a year. Parents/teachers should sign up on their website or call ahead of time to schedule their educational visit. Guided farms tours are also available on select Saturdays. Check the schedule before you arrive. 

Sycamore Banks Farm

is ready to help you find the perfect pumpkin in their pick-your-own pumpkin patch. Come on the weekend, or plan your group trip to the farm by calling the folks at this family farm in Virginia at

(540) 810-2940
Get close to nature through educational programming at Seven Bends State Park
One of the newest State Parks in Virginia, Seven Bends State Park opened its gates to visitors just outside of the town limits in Woodstock in March of 2020. With an enthusiastic crew of staff and volunteers plus a partnership with Friends of the North Fork of the Shenandoah River, you will find both guided programs in beekeeping, nature photography, bird watching, and river ecology as well as self-guided interpretive trails that offer the history of the land and unique geology where the mountains meet the river. Visit https://www.dcr.virginia.gov/state-parks/seven-bends for a complete schedule of upcoming programs.
Learn about Plantation Life in the Valley
Book a tour of Bell Grove Historic Plantation, the 1797 manor house originally built for Major Isaac Hite and his wife, who was the sister of President Madison. 
School tours include the Manor House, The Winter Kitchens, Blacksmith Forge and landscape around the plantation. 
The Hite family were one of the earliest settlers of the area, giving an excellent view of plantation life in America. The battle of Cedar Creek was fought around the home, creating a great opportunity for students to stand in the path of Civil War history as they not only hear, but also see what they are already learning in the classroom. 
Get underground with your geology enthusiast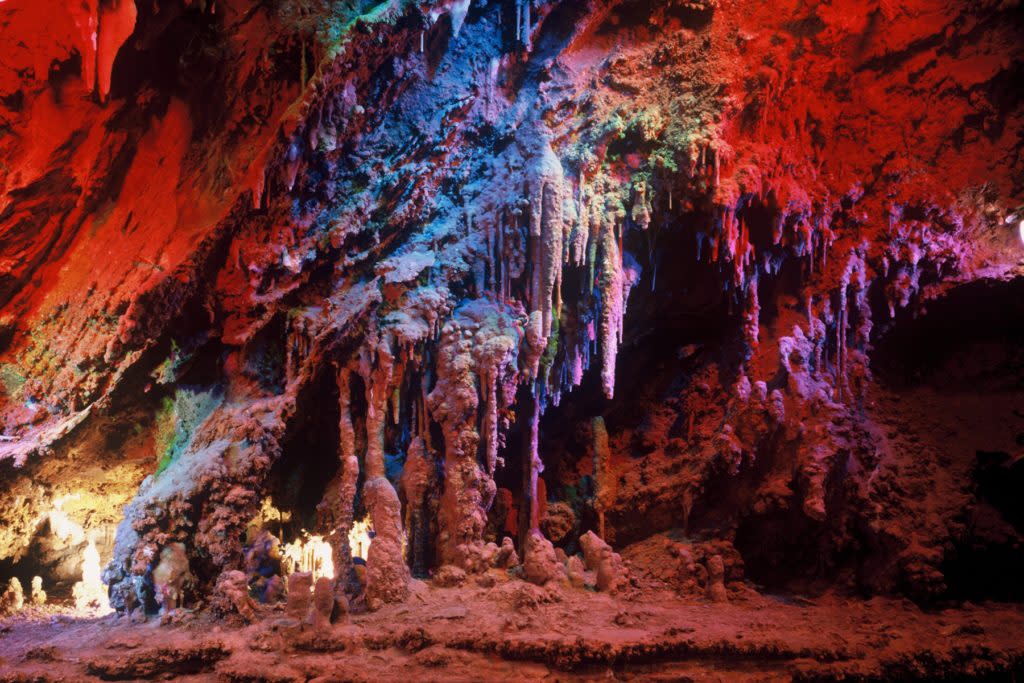 Shenandoah County is bursting with underground wonders most people just walk over and never see. Book a trip to Shenandoah Caverns, the best example of limestone cave formations in the county, to see how rainwater has changed the landscape creating caves, sinkholes and springs throughout the region. 
Since 1922 folks from all over the world, especially those in the Mid-Atlantic region, have been visiting Shenandoah Caverns. Students will see crystal formations, the Capitol Dome, Rainbow Lake, Beyond the Veil, and the famous "Breakfast Bacon" formations on a one-hour guided tour through a mile long underground trail. Just remember to wear layers, as it does get chill down there. 
For a further look into the caves and springs under the Shenandoah Valley, head to Hupp's Hill Civil War/Karst interpretive walking trail in Hupp's Hill Civil War Park just outside of Strasburg, VA. While most people go to the park for the Civil War history, you can see sinkholes and "wild" caves that have formed over millions of years. 
Learn to Ski and Snowsports at Bryce Resort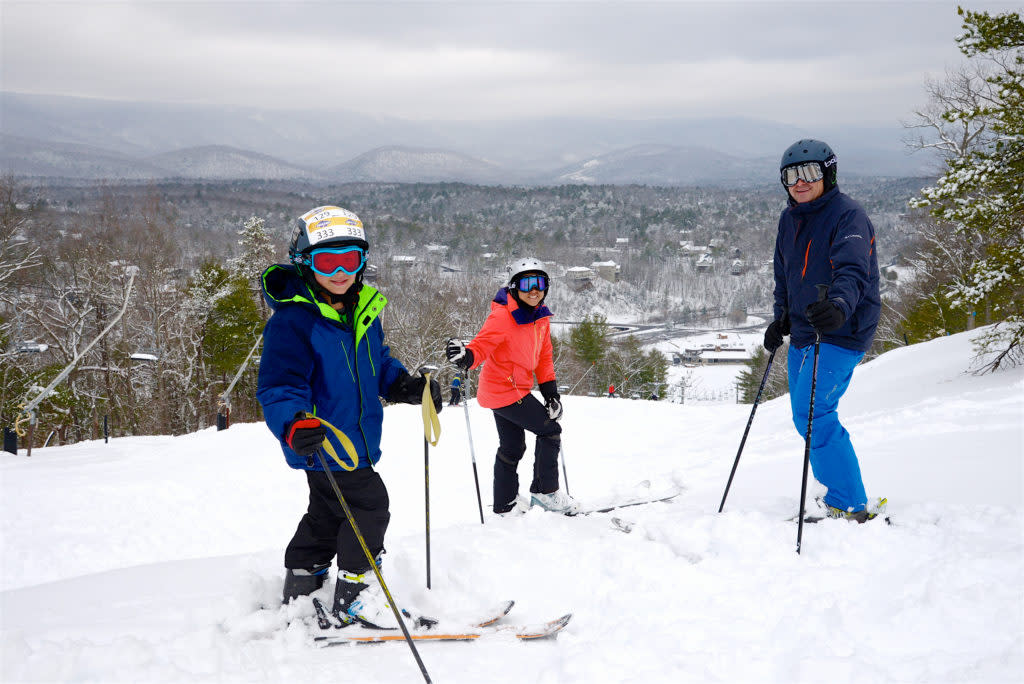 There is no better place to learn how to ski or snowboard than the Horst Locher Snowsports School at Bryce Resort. Get your kids outside, learning a new sport that not only takes balance, but patience and concentration as well. Through group or private lessons, your children can gain confidence in a new sport, while meeting other kids in the area and from across the mid-Atlantic region. 
First-timer ski/snowboarder packages are very affordable, as are lessons for those wanting to hone their skills. Give the ski school a call to set up a lesson just for your group or pop the kids into Kinder School while you brush up your skills (or learn for the first time) too. Best of all, weekdays are cheaper than weekends, and have fewer crowds, making Bryce Resort the perfect spot to do winter PE class outside on the slopes this season. 
Learn how to play golf
Book a golf clinic for your whole crew at Shenvalee Golf Resort. You can book a 9-hole lesson, group clinic (max. 8 students) or a series of lessons for your homeschool group. Register for golf clinics on their website or call 888-339-3181 to schedule your time. 
Learn how to Hook a Fish
Students ages 14 and up can learn how to fly fish with some of the best (and most patient) anglers in the Shenandoah Valley. Full day, half day and private lessons are available. Winter fly fishing courses take place in the shop, and cover fly fishing for trout, smallmouth bass, nymphing techniques, casting and rigging tackle. There is also a fly tying class offered in the winter months. 
In spring, head out to the river for in-the-water classes and workshops. Keep in mind that you will need your own gear. Waders, flies, etc. are not supplied. Call ahead to book your class, and check out the schedule of upcoming events at Murray's Fly Shop.